Abbey Road on the River presents tribute artists BritBeat, The Jukebox and Hal Bruce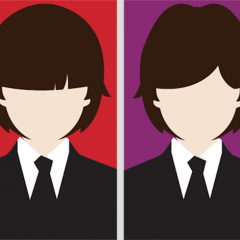 America's premier tribute to the Beatles! BritBeat is a theatrical recreation concert celebrating the greatest rock and roll group of all time, The Beatles. It is their look, sound, mannerisms, accents, costuming and instrumentation, coupled with the Beatles' iconic vocal harmonies for the most authentic recreation that you will find. The show is produced to feature a live concert through the ascending Beatles' eras of music including Ed Sullivan, Shea Stadium, Sgt. Pepper and Abbey Road. Along with their award winning multimedia show you will experience the music, the moods and emotions of the 1960s with a stunning backdrop of projected images and video that will immerse you in a fantastic journey back in time and channel you back to the Beatles historic explosion onto the pop culture and music scenes in the turbulent sixties.
BritBeat has been performing to audiences around the world since their beginning in 2001. They have twice headlined at Mandalay Bay in Las Vegas, Nevada, played to a live national television audience for the McDonald's Thanksgiving Day Parade and performed as the Beatles on the nationally spotlighted 50th Anniversary Ed Sullivan Show recreation on February 9, 2014 in Louisville, Kentucky. Appearing on numerous television stations over the years they have also been featured in Newsweek Magazine and the Beatles 50 Historic Moments magazine. Perennial favorites at the annual Abbey Road on the River Music Festival the band features Chris Getsla as Paul McCartney, Eli Echevarria as John Lennon, Geoff Allen as George Harrison, Dave Robinson as Ringo Starr and Rick Sladek on keyboard orchestrations.
---
For 14 years "The Jukebox", has been paying tribute to The Fab Four and are considered by many as Latin America's top Beatles Tribute Band and one of the very best in their field. With successful shows all over the world, including amazing performances at Liverpool's historical Cavern Club and Casbah Club, as well as Argentina's Beatleweek and the world famous Abbey Road on The River Beatles Festival, this band has proven that Beatles music is an universal language. Proof of it is that that they recently have been inducted in Puerto Rico's own Rock n Roll Hall of Fame, along José Feliciano and Carli Muñoz, keyboard player for The Beach Boys (1969-1981)...even performed with ex-Beatles drummer Pete Best!
Their live shows stand out for their faithful and exact rendering of The Beatles' music. Their versatility is what makes their shows stand out, by recreating the spirit and the magic of The Beatles through the most important element: the music. Note for note recreations of the Beatles most loved songs, from their early hits like "I want To Hold Your Hand" and "Twist and Shout", hidden gems like "Yes It Is" and "Every Little Thing" to their last classics like "Let It Be" and "Hey Jude". Even pre-Beatlemania and solo material, adding up more classic tunes to their 200+ songs repertoire. They are indeed, a "Jukebox" of Beatles music.
---
Hal Bruce continues his world journey as one of the busiest solo performers on the musical circuit today, travelling all over Europe, USA, Canada, and even further. Just recently, on April 8th, 2015, he was notified that he will be the newest Inductee to The Nova Scotia Music Hall Of Fame, where he will be listed with Nova Scotian icons like Anne Murray and Hank Snow, who both won it in past years.) He is well known for his Deadly Medley, where he plays every Beatles song in a non-stop medley, all 214 of them!
He not only does Beatles music, acoustically and vocally true to form, but performs 1960s classic hits to most of the venues he appears, again true to form, and knows countless hits from that Era. Hal's style comes across as sounding more like two or three guitars at once, all without the aide of computer gimmicks, or backing tracks. He has opened and performed with a number of international greats, as well. Let him take you back!