Abbey Road on the River Tribute Artists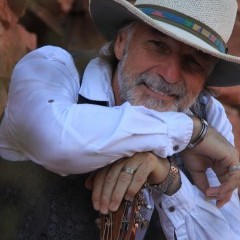 Hal Bruce continues his world journey as one of the busiest solo performers on the musical circuit today, traveling all over Europe, USA, Canada, and even further. In 2015, he was inducted to The Nova Scotia Music Hall Of Fame, where he is listed with Nova Scotian icons like Anne Murray and Hank Snow, who both won it in past years. He is well known for his Deadly Medley, where he plays every Beatles song in a non-stop medley, all 214 of them!
He not only does Beatles music, acoustically and vocally true to form, but performs 1960s classic hits to most of the venues he appears, again true to form, and knows countless hits from that Era. Hal's style comes across as sounding more like two or three guitars at once, all without the aide of computer gimmicks, or backing tracks. He has opened and performed with a number of international greats, as well. Let him take you back!