Bad Ass Brass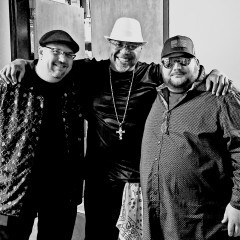 The Bad Ass Brass formed their exciting musical voyage of artistic discovery in 2008. Since that time they've used constant collaboration, experimental sound exploration, and bespoke arrangements to shape their signature style.
BAB is at home in a rock show, symphony orchestra, wind ensemble, brass band, chamber group, Broadway pit, big band, jazz combo, and scoring studio. Members have performed with Aretha Franklin, Jerry Lewis, Felix Cavaliere, The Commodores, Jason Scheff, Spoon, Michael McDonald, Hanson, Kid Rock, Boyz II Men, 4U, Jack Harlow, Ambrosia, The Louisville Orchestra, Il Volo, Kentucky Symphony Orchestra, Orchestra Kentucky, The Owensboro Symphony, The Don Krekel Orchestra, Milenio Salsa Band, The Velcro Pygmies, LouOrleans Brass Band, Orchestra Enigmatic, Chamber Winds Louisville, The Newbees, and recently appeared on The Tonight Show Starring Jimmy Fallon with Love Jones.
They're thrilled to be back on board and look forward to meeting and hanging with everyone! Drop a dime online and say hello!