Beatle Brunch Radio Host Joe Johnson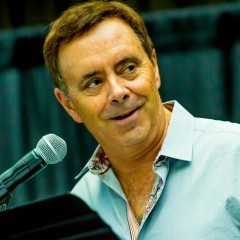 Joe Johnson is host of the nationally syndicated Beatle Brunch radio show, heard on nearly 100 radio stations via The Westwood One Radio Network for nearly 25 years. Beatle Brunch can also be heard on demand via the Beatle Brunch Club @ www.brunchradio.com.
As one of the foremost experts on The Beatles, Joe has been featured on NBC's The Today Show and CNN and is often called upon to emcee Beatles' related events, festivals, panels and concerts, and has hosted dozens of Beatle-Themed cruises. Joe's interviewed Sir Paul McCartney, Ringo Starr, Yoko Ono, George & Giles Martin, Olivia Harrison, Pete Best and many others associated with Beatles history.
Joe is looking forward to meeting you on board The Flower Power Cruise and reconnecting with many of his friends in the entertainment business.
Follow Joe on Twitter @beatlebrunch and "like" him on facebook.com/beatlebrunch.