Billy J Kramer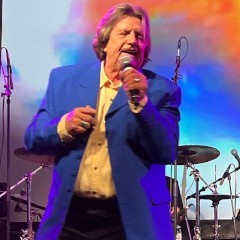 British Invasion legend Billy J. Kramer burst onto the music scene in 1963, when his first 3 singles--"Do You Want To Know A Secret", "Bad to Me" and "I'll Keep You Satisfied" --reached number one on the UK charts. All three were written by John Lennon and Paul McCartney, and all achieved similar success in America. The Beatles' manager Brian Epstein discovered and managed the Liverpool-born Kramer, and as with the Beatles, signed him to EMI with George Martin as his producer. Early UK tours included dates with The Beatles, Gerry and The Pacemakers, Gene Pitney, The Swinging Blue Jeans, Tommy Roe, and Cilla Black. Later tours included dates with Billy as headliner with the likes of the Kinks, The Ronettes, The Yardbirds and The Who as support acts.
Billy J.'s first hit in the USA was "Little Children", written by J. Leslie McFarland and Mort Shuman, ironic in that in England it was chosen as a departure from Lennon/McCartney material; two more songs penned by John and Paul, "From A Window" and "I Call Your Name" had also been hits for Mr. Kramer. Here in North America, the Lennon/McCartney songs were follow-up hits after Billy's breakthrough with "Little Children".
His U.S. debut was on the Ed Sullivan Show on June 7, 1964, and his first U.S. tour dates were immediately after that at "The San Antonio Teen Fair of Texas", which also featured Bobby Vee, Bobby Rydell, and The Rolling Stones. Kramer was also alongside the Rolling Stones on the TAMI Show, with the Beach Boys, James Brown, The Supremes and more. Hullabaloo, Shindig and other U.S. programs of the era became regular stops for Billy on his American visits. "Trains and Boats and Planes", the Burt Bacharach tune that became a hit for Billy, was a favorite on such programs, including Dick Clark's "Where The Action Is".
Later on, TV shows such as "The Midnight Special", Fox TV's "Good Day L.A." and "CBS Good Morning" would be among those to feature Billy. His 2014 CD "I Won The Fight" was released the year he joined the likes of Mike Pender's Searchers, Peter Asher, Chad & Jeremy, Denny Laine, and The Hollies' Terry Sylvester for a 50th Anniversary British Invasion Tour of the USA. His autobiography, "Do You Want To Know A Secret", was released in 2016; he is currently working on new music for release this year or in early 2023. An energetic, dynamic performer, Billy is known for his spirited engagement with the audience at each and every live performance.