Cheech & Chong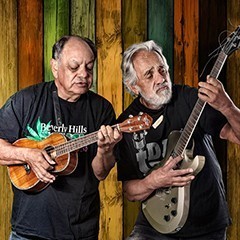 The 2018 Cheech & Chong tour is a follow up to the hugely successful reunion tour: Cheech & Chong Light Up America Tour in 2008, following a 25-year hiatus. The tour included more than 100 shows in the U.S. and Canada and grossed more than $12 million in ticket sales.
Richard "Cheech" Marin and Tommy Chong helped define an era with their hilariously irreverent satirical counter - culture no holds barred comedy routines. Their phenomenal success included nine comedy albums and eight films. Their debut movie Up In Smoke in 1978 defined a new genre of movies - the stoner comedy. To this day, the movie still ranks as one of the top weekend film rentals
Legendary producer Lou Adler discovered and signed Cheech & Chong to his Ode Records label, following their appearance at the famed Troubadour Nightclub in Hollywood. Their first album Cheech & Chong was released in 1971, followed by Big Bambu in 1972, which was one of the all-time best-selling comedy albums.
Some of their hit songs and comedy bits included Dave's Not Here, Santa Claus & His Old Lady, Sister Mary Elephant (SHUDD UP!), Earache My Eye featuring Alice Bowie, Bloat On featuring The Bloaters, Up In Smoke, Basketball Jones and Cheech's solo hit Born In East L.A.