Darren Dowler, former vocalist of Paul Revere and The Raiders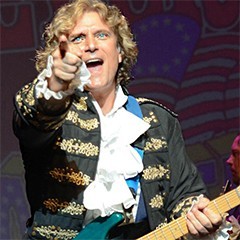 Recording and film star Darren Dowler is best known for his years as lead vocalist of the legendary Paul Revere and the Raiders. He also sang with the iconic Bill Medley of The Righteous Brothers, Gary Puckett, Mitch Ryder, B.J. Thomas, The Lettermen, The Jordanaires, Al Jardine of The Beach Boys, Chuck Negron of Three Dog Night, Mary Wilson of the Supremes and many more. He was also the first guitarist for the Backstreet Boys.
Dowler's worked with Steven Spielberg, Billy Bob Thornton, Will Smith, Shia Labeouf, Michelle Monaghan and many more major television and film names. He can be see in films such as Rock and Roll the Movie, Palau the Movie, Christmas In Hollywood and the soon-to-be-released Grace of The Father. He's also the star of new streaming series John Christian (currently in production) where he portrays a federal bounty hunter.
His newest album "Darren Dowler - Back To The Garage" is in the final stages of production and will be released in the summer of 2022. Aside from touring the world playing music, Dowler has also performed on Broadway and is a published author, film school graduate and film director.