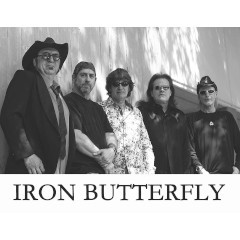 Los Angeles' music climate of the late sixties and seventies was characterized by the heavy sounds and sentiments that reflected the revolutionary attitudes of the generation. Bursting onto that scene was Iron Butterfly, whose sound not only epitomized the hard attitudes of the youth with its heavy drumming and bass lines, but also embraced more delicate aspirations through its intricate guitar and keyboard overlays.
Iron Butterfly was signed to ATCO records (a division of Atlantic Records) and released their first album, aptly titled "Heavy." While the band was on the road with the likes of The Doors, Jefferson Airplane, The Grateful Dead, Canned Heat, Traffic, The Who, and Cream, their impressive debut stayed on Billboard's album charts for almost a year!
They followed up with the monumental LP, "In-A-Gadda-Da-Vida", featuring the 17: 05-minute, side-long track that shook the entire music industry with its phenomenal reception. 'Vida outsold every record in the history of recorded music within the first year of its release and therefore outgrew and outsold the standard of the music industry's "Gold Album" award.
For this achievement, Iron Butterfly was subsequently awarded The Industry's Very First "Platinum Album!" "In-A-Gadda-Da-Vida" stayed on the charts for 140 weeks, with 81 weeks in the Top Ten! To date, the album has sold in excess of 30 million copies and remains an undisputed classic in the archives of rock with DJ's and audiophiles worldwide!
Within a year of releasing "In-A-Gadda-Da-Vida," Iron Butterfly had charted a third album, "Ball," which surpassed "Vida" (still in Billboard's Top 10) turning "Gold," and climbed to #1. "Ball" remained on the charts for 44 weeks, followed by two more album releases… "Live" and "Metamorphosis," each charting respectably in the Top 20!
The Current Personell…
Eric Barnett – 1995 Lead Guitar / Vocals Eric is a veteran of Iron Butterfly and has traveled the world with the original band beginning in 1995. He returns with his lead vocals, powerful guitar playing and distinct sound. Eric has performed with many other well-known artists and is known as a world-class guitarist and vocalist.
Martin Gerschwitz – 2005 Keyboards / Vocals German violinist, keyboardist, and composer, Martin Gerschwitz, who had formerly worked with Lita Ford, Meat Loaf, Walter Trout and Eric Burdon and The Animals, joined the band in 2005.
Michael Green – 2014 Percussion / Vocals Formerly with Blues Image, Mike has performed with many other well-known groups. Along with his vocals, he brings additional rhythm to the group.
Dave Meros – 2006 Bass Guitar / Vocals Dave returns again to Iron Butterfly providing the heavy bass lines Iron Butterfly is famous for. Dave is best known as the bass player for the rock band Spock's Beard. He has also played with such artists as Eric Burdon, Bobby Kimball of Toto, Simon Phillips, Steve Lukather, Glenn Hughes and Mark Lindsay of Paul Revere & The Raiders!
Ray Weston – 2010 Drums Ray was a longtime member of Wishbone Ash and joined the house bands for Viva Cabaret with Tom Jones. He returned to Wishbone Ash in 1997 – 2007. In 2010 Ray toured 14 countries with Iron Butterfly.