Kiss The Sky- Jimi Hendrix Re-Experience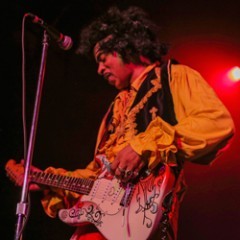 Kiss The Sky The Re-Experience: World's Greatest Tribute to Jimi Hendrix
Jimi Hendrix is widely regarded as the greatest guitarist of all time, an innovator and a legend gone too soon.
Rolling Stone Magazine Says: "Yes believe the hype! This show lives up to it!"
Kiss The Sky The Re-Experience: World's Greatest Tribute to Jimi Hendrix is the #1 Hendrix tribute in the world and stars Jimy Bleu the world's longest running Jimi Hendrix performance artist. Just like Jimi Hendrix, Jimy Bleu is a virtuoso, left-handed guitarist and performs all of Hendrix's signature stage moves. He re-creates the iconic sounds and moves of Hendrix so well that he has also been a touring member of Jimi's Hendrix's own bassist Billy Cox's band. In turn, surviving Hendrix band members Billy Cox, Juma Sultan and Gerardo Velez have all taken the stage with Kiss The Sky.
Kiss The Sky is more then a concert. It is an electrifying sight and sound performance about all phases of the short yet iconic career of Jimi Hendrix. Kiss The Sky's musicians are look and sound alike to Hendrix's original bands. They perform in meticulously recreated full replica wardrobe and gear historically accurate to Hendrix's most iconic concerts. They WOW audiences wherever they go and fans that have attended actual Jimi Hendrix concerts have praised Kiss The Sky's accuracy. The full length stage show includes performances of both his band's, The Experience and Band of Gypsys and features historic video, photos and the Joshua FX Light Show originally used during Jimi Hendrix's concerts at the famed Fillmore East.
In 2016 Kiss The Sky completed their first USA tour to rave reviews. The tour kicked off with a live TV concert devoted entirely to them and broadcast live to 48 million households on the season finale of the AXS-TV channel show 'The World's Greatest Tribute Bands'. In less then 2 years the band has played to capacity audiences at theaters, festivals and famed venues including in Chicago at Buddy Guy's Legends, in Las Vegas at Vinyl in the Hard Rock Casino in New York at Daryl's House Club (owned by music icon Daryl Hall), Bearsville Theater in Woodstock with special guest Juma Sultan, the Hard Rock Cafe in Pittsburgh, World Cafe Live in Philadelphia and commemorative shows at the Cafe Wha? in New York City where Hendrix was discovered.
The endorsements from the press and former members of Jimi Hendrix's own bands, who have also performed with Kiss The Sky, are a testament to the band's authenticity.
Billy Cox, Hendrix Bassist and band mate with Band Of Gypsys:"Jimy Bleu is the real deal. A Jimi Hendrix aficionado"
Gerardo Velez, Hendrix percussionist & Woodstock band mate with the Gypsy Sun and Rainbows and Founding member of Spyro Gyra says:
"The world knows Jimi Hendrix was in a league of his own and there is no better band that captures the essential Hendrix legacy or a more exact tribute to Jimi than Kiss the Sky! This is my only endorsement of any tribute show and believe me I only give it because I can picture my friend Jimi himself smiling down with approval."
Juma Sultan, Percussionist with Jimi Hendrix Woodstock band - the Gypsy Sun and Rainbows
"When it comes to performing Jimi's music, I don't impress easily and there is no question that KTS is the most detailed and historically accurate Jimi tribute show I've seen. Jimy Bleu truly brings the Hendrix spirit to the stage. And that is no small task. They have my full endorsement."
Katie Daryl, Host and producer of AXS-TV show 'The World's Greatest Tribute Bands': "Kiss The Sky is spectacular! So often with tribute bands people say close your eyes, they sound just like them, but with Kiss The Sky you MUST keep your eyes open because the guitar playing, vintage gear, costumes and stage presence of the band is so very precise and out of this world your jaw will drop!"
The Huffington Post's Craig Carpenter says: "They had the effect of recreating songs and feelings the audience has had for years. Exceptionally talented! In the absence of Hendrix himself, the next best thing is to catch this band live!"