The Lovin' Spoonful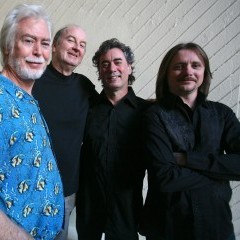 53 years ago in Greenwich Village, NY The Lovin' Spoonful began it's career in a small club called the Night Owl Cafe. They combined the folk music style of guitar based songs with the energy of the Jug Band era and adding electric bass and drums created what came to be called Good Time Music. They became immediately popular with the audiences there and soon after their first hit record "Do You Believe in Magic" was the first of 7 straight top 10 single hits, including the # 1 hits Summer in the City and Daydream. Featuring unusual instruments like an autoharp and blues harmonica the Spoonful was soon a hit not only in the USA but across the ocean in England their fans included The Beatles.
In March 2001 the Lovin' Spoonful was inducted into the Rock and Roll Hall of Fame class of 2000 that included Eric Clapton, Bonnie Raitt, Earth Wind and Fire and James Taylor. In 2006 the Spoons were inducted into the Vocal Group Hall of Fame.
The band is still enjoying touring especially since our audiences may not have had the opportunities to see and hear the band in the 1960's as we only toured for 3 years before all going on to solo projects.
Recently the band performed on theme cruises in the Caribbean, The Where the Action Is Cruise, The Flower Power Cruise and Rockin The Caribbean with Rocky and the Rollers were great cruises where the band got to spend quality time with our fans as well as enjoying the cruising lifestyle.
2018 is shaping up to be another banner year for the band and we are all looking forward to getting to perform for and meet our fans all across the US and possibly even overseas where the Lovin' Spoonful's music remains very popular.
Good Time Music was chosen as our motto because we believe music can provide not only quality musical enjoyment but a chance to enjoy a good time from our earlier days. So come on out and enjoy the sights and sounds of the Lovin' Spoonful... See you there!!