Micky Dolenz - Voice of The Monkees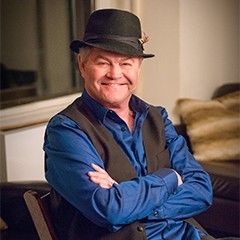 Micky Dolenz was born in Los Angeles on March 8, 1945. His father George, starred in a number of films and played the title character in the mid-1950's television series The Count of Monte Cristo.
Micky first established himself as a performer at age ten when, under the stage name of "Mickey Braddock," he starred in his own first TV series, Circus Boy, which aired on NBC and then ABC from 1956 to 1958. In his early teens, Micky guest-starred on a number of television shows. As he graduated high school and began attending college in the mid-'60s, Dolenz also learned to play guitar. He soon began to perform with a number of rock 'n roll bands, including one called The Missing Links.
In the fall of 1965, Micky was one of 400 applicants who responded to a trade ad that announced auditions for a new TV show about a rock band. He auditioned for The Monkees' TV show by playing and singing Chuck Berry's legendary rocker "Johnny B. Goode," and wound up chosen for the show along with three other actors: Davy Jones, Michael Nesmith, and Peter Tork.
The Monkees' debut single, "Last Train to Clarksville," featuring Micky on lead vocals, hit the charts on September 10, 1966 and rocketed swiftly to number one. Two days later, the television show debuted on NBC to great success. The TV ratings remained high for two seasons, and the show won two Emmy awards for the first season for "Outstanding Comedy Series" and "Outstanding Directorial Achievement in Comedy" going to the late-veteran director James Frawley.
Micky and his fellow "TV bandmates" actually went on to become a real live rock band that first toured North America from late December 1966 to May 1967, and then began a US / UK summer 1967 tour that featured (at Micky's invite, following the Monterey Pop Festival) none other than guitar legend Jimi Hendrix as the opening act for the first few dates. It was around this time that Micky also acquired one of the first Moog synthesizers ever made, which he played on the Monkees' track written by Nesmith, "Daily Nightly," almost two years before its use by The Beatles on their final studio album, Abbey Road.
The Monkees also went on to star in their own feature film, Head, a 1968 psychedelic romp directed by the TV series' co-creator Bob Rafelson from a script co-written by a young Jack Nicholson. The movie is now considered a cult classic.
The TV ratings for The Monkees remained high during its initial two-season run, which ended with Micky actually in the director's chair for the series' final episode called "Mijacogeo" (a.k.a., "The Frodis Caper"). While the "Pre-Fab Four" continued to be seen in re-runs, Dolenz turned his attention back to the origins of his trade—acting, and now directing.
In 1977, Micky flew to London to star in the West End production of the musical The Point! written by singer/songwriter Harry Nilsson. He planned to stay three months. Instead, he remained in England for twelve years. During that time, he further honed his behind-the-camera skills begun on The Monkees by working as a producer-director for the BBC and London Weekend Television.
He also directed a short feature film, The Box, written by Michael Palin and Terry Jones of famed British comedy team Monty Python, and helmed numerous music videos. In the early 1980s, while in England, Dolenz directed a stage version of the Alan Parker-directed 1976 feature film Bugsy Malone—the cast of which included a then-unknown 14-year-old Welsh actress named Catherine Zeta-Jones. From 1983 to 1984, he was also responsible for creating and producing the British children's television show Luna. In 1986, the popular cable channel MTV re-broadcast episodes of The Monkees, exposing a whole new generation to the show and "Monkeemania." Freshly back to the States, Micky joined with former Monkees bandmate Peter Tork to record new tracks for Arista Records. The first single, "That Was Then, This Is Now," became The Monkees' first Top 20 record since 1968. Micky, Peter and fellow Monkee Davy Jones then subsequently reunited for a stellar 1986 summer tour, so successful that it sparked the reissue of all Monkees' classic LPs, as well as Pool It!, on Rhino Records. At one point in 1987, there were seven Monkees' albums on Billboard's Top 200 LPs chart. By 1996, The Monkees again joined together; this time, for a "30th Year Reunion" summer tour across America. The response was so great that they toured again the following year, this time finishing up in England.
Ultimately, The Monkees achieved their greatest success not as a TV show but as viable recording artists; selling in excess of 65 million units, and achieving worldwide success. Their first four albums—The Monkees (1966); More of The Monkees (1967); Headquarters (1967); and Pisces, Aquarius, Capricorn, & Jones, Ltd. (1967) all reached the number-one position on the charts and launched three number-one singles: "Last Train to Clarksville," "I'm a Believer" (both with lead vocals by Micky), and "Daydream Believer." The group's first five albums also went platinum. Back home in the United States and with his powers as a live performer now hitting full stride, Micky went out on the road with the National Touring Company of Grease. He enjoyed musical theater so much that he went on to accept the lead role in a Canadian production of A Funny Thing Happened on the Way to the Forum in 1993, and in 2004 he starred in the Elton John/Tim Rice Broadway musical Aida, as the character of "Zoser."
In 1993, Micky's autobiography I'm A Believer: My Life of Monkees, Music, and Madness (Hyperion/Disney) was published. In addition to writing, Micky has divided his time between acting (The Drew Carey Show, Days of Our Lives, and General Hospital); directing (Boy Meets World for ABC/Disney, and Pacific Blue for USA Networks); and touring with his own band featuring his sister, Coco Dolenz.
In 2005, Dolenz was also on WCBS-FM as a morning "drive-time" on-air personality and soon wrote, along with illustrator David H. Clark, his first children's book, Gakky Two-Feet (Putnam/Penguin) as well as the Buzztime Trivia-associated gamebook Micky Dolenz's Rock 'n Rollin' Trivia (Square One Publishers). June 2006 saw Dolenz onstage again in the role of "King Charlemagne" at the Goodspeed Opera House for the revival of the musical Pippin in East Haddam, Connecticut. He also toured later that year in the role. In 2007, he appeared in Rob Zombie's bloody remake of Halloween as "Derek Allan," the somewhat eccentric owner of a gun shop where Dr. Sam Loomis (played by British actor Malcolm McDowell) buys a gun in his search for the famously murderous Michael Myers. In April 2007, Dolenz was featured on FOX-TV's American Idol on the "Idol Gives Back" episode, when the show filmed celebrities singing and dancing to the Saturday Night Fever hit "Stayin' Alive" by the Bee Gees.
Micky also participated in the 2008–09 season of CMT's reality-TV music show Gone Country, competing against fellow celebrities Sheila E. (who eventually won), Taylor Dayne, George Clinton, and actor Richard Grieco. Micky began 2010 with a comedic turn in the West End production of the hit musical Hairspray throughout the UK, playing the character of "Wilbur Turnblad." His solo album, King for a Day—a tribute to the songs of Carole King—was released by Gigatone Records on August 31, 2010. Then in 2011, Micky regrouped with both Davy Jones and Peter Tork in order to perform a brand-new 45th anniversary Monkees tour starting that June. With performances both in England and the US (just as they had in 1967), the group garnered some of their best reviews ever—including an especially fine assessment of the band's musical abilities from none other than Rolling Stone magazine. The press notices on Dolenz were particularly impressive, with the Huffington Post's review comparing Micky's voice to "a brilliant cross between Roy Orbison and Freddie Mercury."
The close of the tour, held at the Greek Theatre in Los Angeles, California was especially joyous, as both fans and friends turned out for the event. They also appeared in August on the nationally broadcast talkfest, ABC's talk show The View, with Dolenz's old compatriot Whoopi Goldberg as one of the hosts. In 2012, word began to spread that Micky was beginning (or was it finishing?) an as-yet-untitled new solo album. The only concept revealed was that each of the songs was to represent a particular moment in Micky's life to date. "An audio scrapbook," said Dolenz. The album, Remember (Robo Records/Universal), would be released that September.
Earlier that year in February, however, while in New York preparing for a possible new theater role in a musical called Garage Band, Micky received the tragic news that Davy Jones unexpectedly passed away. It was a moment that shook Micky as much as it had Davy's fans throughout the world, and Micky paid loving and heartfelt tribute to the man he considered in so many ways "a brother" in a flurry of requested media interviews. With a series of Davy Jones tributes scheduled, one done in early April at B.B. King's in New York, Micky then spent the summer of 2012 on a series of solo shows with his band and as part of the 2012 "Happy Together" tour. Micky also recorded a live album on October 19, 2012, at B.B. King's in Manhattan (with an introduction by Q1043's Jim Kerr), New York; and then, in a surprise move to Monkees fans everywhere, Micky regrouped in November with Peter Tork and the long-absent fourth Monkee, Michael Nesmith, for a series of Monkees reunion shows in the summer of 2012.
The 12-date tour around the US proved fantastically successful, immediately creating a demand for a follow-up series of engagements. Pollstar, the concert tour industry's leading trade publication, placed it in its Top 20 grossing concert tours in 2012.
In January 2013, Dolenz embarked on a two-week series of performances in Hairspray to honor the 25th anniversary of the film written and directed by John Waters (who himself portrayed the Narrator during the performances). Dolenz and his own band also performed throughout the spring, including the venerable "Flower Power" concerts at Epcot, Florida. Micky also joined with David Cassidy and Peter Noone for the "Teen Idol" tour. Details then leaked in the early spring, and were later confirmed, that The Monkees would again reteam with Nesmith aboard in July 2013 for a summer tour with dates targeted for cities they did not travel to last time. In 2014, Micky was profiled on the Oprah Winfrey OWN cable network show Where Are They Now? and delivered another bravura performance at B. B. King's in Manhattan, New York. Already a creative and artistic success many times over, Dolenz decided to "go entrepreneur" and formed a fine-furniture company with his daughter, Georgia, called "Dolenz & Daughters" (www.DolenzandDaughters.com). Micky has also appeared recently opposite Three Company's TV veteran actress Joyce DeWitt in the play Comedy Is Hard, written by Emmy-award-winning Simpsons writer Mike Reiss). The play was staged at the prestigious Ivoryton Playhouse in Connecticut. In 2015, Dolenz announced a new series of Monkees live shows together with Peter Tork beginning in April—along with two high-profile solo-charity appearances in April, One Starry Night and Jammin' for Jones. He also made plans for three appearances at the Feinstein's 54 Below Broadway's Supper Club in NYC for July, where he will record a new live album titled A Little Bit Broadway, A Little Bit Rock 'n Roll.
That album was released on Friday, September 25 (on Broadway Records) and the night before he appeared with The Roots on The Tonight Show with Jimmy Fallon on NBC. Micky sat in with The Roots for the whole show giving the Monkees-hits a very contemporary spin.
Two more sold-out shows were held at Feinstein's 54 Below that week as well. In 2016, Micky re-grouped with Peter Tork and Michael Nesmith to record the album Good Times! – their first new album in 25 years. The album appeared in many music media's Top Ten Albums of the year; including Rolling Stone. A 66-date, 4 country tour followed with Dolenz and Tork.
Micky toured last June with fellow-Monkee Michael Nesmith, billed as The Mike & Micky in the States and toured later in the year, in Australia and New Zealand. Micky also performed last fall on the It Was Fifty Years Ago Today tour – commemorating the 50th anniversary of The Beatles' White Album. Micky was joined by Todd Rundgren, Christopher Cross and Joey Molland of Badfinger.
In April of 2020, Dolenz was to tour again with Michael Nesmith, but that tour was postponed till 2021, due to the world pandemic. A live album of their Mike & Micky tour of last year was released (in April) via Rhino Records. Micky entered the studio in the Fall of 2020 to begin work on a new album, entitled Dolenz Sings Nesmith (7a Records), produced by Nesmith's son Christian. The album was released in May of 2021 to universal acclaim. Ultimate Rock Classics has already listed it as one of the Top Albums of 2021- it was listed as #10.
In September of 2021, Dolenz embarked on the 46-date "Monkees Farewell Tour" with Nesmith. The tour will culminate on November 14 at the Greek Theatre in Los Angeles.
Actor, singer, director, producer, writer, radio DJ, inventor, and all-around performer extraordinaire, Micky Dolenz stands tall as a paragon of taste and accomplishment in the rough-and-tumble world of show business and entertainment.
And oh, by the way - he remains a believer . . .