Music Host Joe Johnson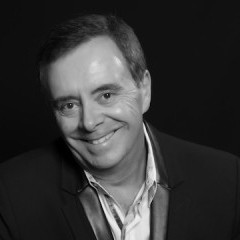 Joe Johnson has been a part of classic music his entire life and is very excited to be back on board with you once again. Not only did Joe live through the 60's and 70's, he was one of the top radio personalities on a legendary Classic Hits radio station in Miami for nearly 30 years. The station hosted hundreds of concerts, giving Joe access to personal interviews with pop legends like Paul McCartney, Ringo Starr, Peter Noone, The Grass Roots, Peter Frampton, Gary Wright, Frankie Valli, The Monkees, Brian Wilson and many others.
Joe is also a national voiceover artist and can be heard weekday mornings on South Florida's NPR news station, 91.3 WLRN, where he is the local host of Morning Edition. He is also the creator of the Nationally-syndicated Beatle Brunch radio show, where he is heard on nearly 100 radio stations via Compass Media Networks. He was named "Best FM Radio Personality" in the Miami market in 2015.
Joe is a former stand-up comic who enjoys hosting live events and acts as Master of Ceremonies for many local and national charities. He lives in Plantation FL with his wife Coop, a theater production manager.
Follow Joe on Twitter and "like" Beatle Brunch on Facebook.