Spencer James - Searchers Story with 60s Explosion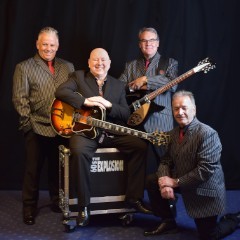 The Searchers Story Show, Presented by Spencer James with The 60s Explosion.
Spencer James has been the lead vocalist and guitarist with the sixties legends "The Searchers" for the last 33 years. They have performed in just about every prestigious venue in the world including Wembley Stadium (with Sir Cliff Richard), National Indoor Arena (millennium New Year with Sir Cliff), London Palladium, Royal Albert Hall, Madison Square Gardens, including tours of: Australia, New Zealand, Singapore, Hong Kong, U.S.A. Canada, Europe, the Middle East, Las Vegas, and remained hugely popular throughout this time.
Spencer James was also a member of the band called "FIRST CLASS", which gave Spencer his first big hit with a song called "Beach Baby" in 1974. They appeared on many TV shows ie: "Top of the Pops" and "Lift off with Aysha", also many European Television shows.
Continuing this legacy of The Searchers, Spencer has teamed up with one of the best 60s bands in the UK, 'The 60s Explosion', to present: 'The Searchers Story Show', a show which recreates some of the magic from a band which successfully spanned over five decades. The show offers a flavour of The Searchers' live show, presented with all the personality that Spencer is known and loved for.