The Hall of Fame Band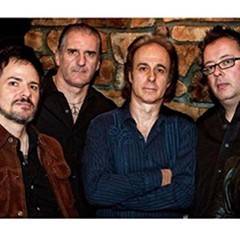 Jeff Alan Ross - (Badfinger, Peter Asher) vocals, guitar, keyboards
Bill Cinque - (Neil Diamond, Peter Asher) bass, vocals
Christopher Allis - (Michael Nesmith and the First National Band) drums, vocals
Rob Bonfiglio - (Wilson/Phillips, Brian Wilson) guitar, vocals
THE HALL OF FAME BAND: Pleasing Baby Boomers since 2006!
The Hall Of Fame Band had its genesis as the band for the reunited Peter & Gordon in 2006. They still have the honor of backing up Cruise Host, Peter Asher for Star Vista Cruises.
THE HALL OF FAME BAND: Showing Millennials the way since 2006!
These guys know what they're doing and it shows. A 4-piece band with the ability to make a theater feel as intimate as a living room, while making the smaller rooms rock like an arena show. Each member is a multi-instrumentalist and a legitimate lead singer. No backing tracks or pre-recorded music. This band is for real. A rare combination of passion, power and personality makes this band unique. Their credentials make them authentic.
THE HALL OF FAME BAND: Keeping real music real since 2006 and loving every minute of it!
Members of the band have also performed and/or recorded with: Gerry Marsden (Gerry & The Pacemakers), Chad and Jeremy, Peter Noone, Billy J. Kramer, Mark Lindsay, Ron Dante (The Archies, The Turtles), Mike Pender (The Searchers), Micky Dolenz, Mary Wilson (The Supremes), Stevie Nicks, Lyle Lovett, Paul Anka, Graham Nash, Mick Taylor (The Rolling Stones), Al Jardine (The Beach Boys), Steve Martin and Edie Brickell, Shawn Colvin, Denny Laine (Moody Blues, Wings), Chip Hawkes (The Tremeloes), Terry Sylvester (The Hollies), Dennis Tufano (The Buckinghams), Tommy Roe, Freddie Cannon, Brian Hyland, Johnny Tillotson, as well as the acts in their personal bios.
THE HALL OF FAME BAND: Making Baby Boomers feel young again since 2006!