The Ides of March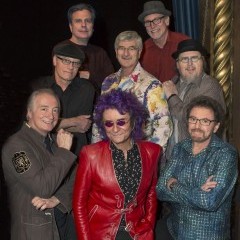 Since 1964 Chicago's IDES OF MARCH have thrilled audiences throughout the United States and Canada with their mix of rocking guitars, brilliant brass, and heartfelt vocals.
Powered by the unforgettable songs of Grammy-Winner Jim Peterik, their music has become an evergreen feature on radio stations everywhere, in movie soundtracks, and national advertising campaigns. Their live shows are legendary for their energy and sheer enjoyment.
Defying the odds, the four original members — Jim Peterik, Guitar; Larry Millas, Guitar; Bob Bergland, Bass; and Mike Borch, Drums — have remained together, weaving their way through the shifts in popular music, and always rising to action in creating a show that remains at the peak of entertainment. The original members are now joined by Scott May, Keyboards; Tim Bales, Trumpet; Henry Salgado, Trombone; and Steve Eisen, Saxophone.
That show has become a cornucopia of platinum hits, starting with the Ides' own immortal "Vehicle." Upon its release in April of 1970, the brass-driven tale of the "friendly stranger in the black sedan" became Warner Brother's fastest selling single of all time, and to this very day is played daily on radio stations throughout the world. It has become one of those rare chestnuts that no matter how many times you hear it, you never tire of it. In contrast to the power of "Vehicle" lies the lush vocal harmonies of "L.A. Goodbye," the centerpiece of the unplugged mini-set inside each Ides Of March concert. Their 1965 debut single "You Wouldn't Listen" harkens back to the British invasion of the time. It is astounding to hear the band so nimbly returning to its roots, summoning the voices of their youth.
Jim Peterik's songs have garnered 18 top-10 Billboard spots and have sold over 30 million copies, earning him a Grammy(tm), a People's Choice award, an Oscar nomination, and multiple Gold and Platinum RIAA commendations. These songs are among everyone's favorites, and are all instantly recognizable. His collaborations with .38 Special – "Caught Up In You," "Hold On Loosely," and "Rockin' Into The Night" (to name a few) vaulted to the top of the charts. These songs have transcended genres over the years, becoming as beloved by Country Music fans as Rockers, and appealing throughout the ages from Bobby Soxers to Baby Boomers to Millenials.
A former member of the group Survivor, Jim co-wrote all their smash hits such as "The Search Is Over," "Is This Love," "High On You," "I Can't Hold Back," and yes, Jim co-wrote "Eye Of The Tiger," one of the most popular songs of all time.
All of these songs and more are featured in the Ides Of March set, making it a non-stop juggernaut of everyone's favorite tunes, a tour of the American Music Songbook touching on multiple genres ringing memories as only hit songs can. Led by Jim (with his trademark purple hair), their energetic stage presence and unmistakable charisma draws you in, leaving you with a smile. Further, their humble and dignified presence off-stage has earned them a bonafide respect among promoters, producers and professionals from coast to coast.
Chicago's very own "THE IDES OF MARCH", for over 50 years, an irresistible favorite.
GREAT GOD IN HEAVEN YOU KNOW THEY LOVE YOU!