The Jukebox Beatles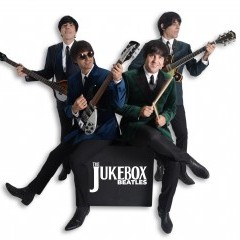 Out of sunny Puerto Rico comes The Jukebox Beatles!! A Beatles tribute like no other! For 21 FAB years, The Jukebox Beatles have successfully integrated three generations of Beatlefans. Their live shows stand out for their faithful and exact rendering of The Beatles' music. Their versatility is what sets them apart from other groups by recreating the spirit and the magic of The Beatles through the most important element: the music.
An authentic reproduction of the music of The Beatles!! Complete with Beatle suits and the same models of guitars, drums and bass that the Beatles used. The Jukebox Beatles is an Award-winning band with countless sold out shows and festival appearances in their native Puerto Rico, United States, Argentina, Dominican Republic, St. Marteen, Panama, Guatemala, Canada and Liverpool, England. Note for note recreations of the Beatles most loved songs, from their early hits like "I Want To Hold Your Hand" and "Twist and Shout" to their last classics like "Let It Be" and "Hey Jude". Even pre-Beatlemania and solo material!! The Jukebox Beatles is not a mere imitation...it's a tribute!!
"Best Tribute Band"
Chicago Beatlefest 2001 & 2002
Guest Artists and Cavern Club Awards Nominees "Best International Band", "Best Beatlemania Band"
4th Latin American Beatleweek
Buenos Aires, Argentina 2004
Guest Artists & AROTR Hall Of Fame 2020 Inductees
Abbey Road on the River Beatles Festival
Louisville, Kentucky 2006-2016 / Jeffersonville, Indiana 2017 - 2022 / Washington DC 2010 - 2012
First Ever Puerto Rican Band to play at the legendary Liverpool clubs "The Cavern Club", "The Casbah Coffee Club" and the "Lathom Hall", the places where The Beatles started.
Liverpool, England. August 2008 & 2011
Performed with The Beatles' original drummer Pete Best.
The Jukebox 9th Anniversary Show. Centro de Bellas Artes Performing Arts Centre, Guaynabo, Puerto Rico.
November 6 2010
Chosen to host Paul McCartney's concert production press conference and pre-show party at San Juan's Puerto Rico Coliseum, right before Sir Paul's first ever concert in Puerto Rico.
Puerto Rico Coliseum. April 2010
Puerto Rico Rock and Roll Hall of Fame Inductees
April, 2015
Guest International Artist and Headlining Act
Guatemala Beatles Day
August 2019
5 sold-out shows at the historic Centro de Bellas Artes in San Juan, Puerto Rico as part of their "Tributo Sinfónico" concert series. Accompanied by Puerto Rico's Royal Symphony Orchestra and featuring musical guests like Grammy Award winners Black Guayaba and the legendary José Feliciano.