The Kinks Experience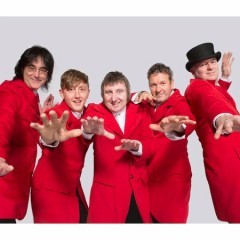 The Kinks Experience is one of the UK's top tribute bands. The band recaptures perfectly the energy and subtle sounds of The Kinks. Playing authentic guitars, keys, and amps to carefully create the vintage sound, The Kinks Experience has worked hard on all the original arrangements of the songs- and they are all there in a set list full of smash hits from You Really got Me, All Day and All of the Night, Dead End Street to Waterloo Sunset and Lola.
The Kinks are regarded as one of the most influential rock bands of the 1960s. With a rich and diverse range of songs written by frontman Ray Davies and his brother Dave, the band set a standard throughout the 60's 70's and 80's with hard edged rock 'n' roll, outstanding melodies, and razor- sharp lyrics.
The Kinks Experience is dedicated to recreating that unique sound of the Kinks. Made up of experienced musicians from bands previously promoting original material, they formed in June of 2015 at Berkeley 2 rehearsal studios in Glasgow Scotland.
Founder members are bass player and life-long Kinks fan Alan Drover, ex Skelter and guitarist Peter McClurg, ex The Rhymes and Skelter. Together they had considered the idea of forming a Kinks tribute band for many years. But the right line-up was proving hard to find.
The main challenge was finding a Ray Davies. Then Peter met Rikki McKay ex- Blackberry Jack and Kinks fan and a plan was hatched to rehearse some songs. Drummer Tommy Clark ex The Seventh Sons with keyboard player Arnie Burgoyne -former Echo and the Bunnymen- completing the line-up.
That first rehearsal was so successful and the chemistry so explosive that the band were playing their debut sell-out shows that August.
The band has been playing gigs and festivals across the UK from The Barrowlands in Glasgow, The legendary Cavern in Liverpool, to the Glastonbarry tribute festival in South Wales.