The Manfreds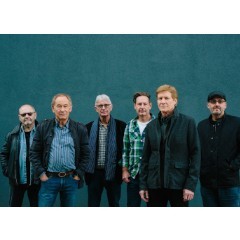 The '60s group Manfred Mann is now considered, more than ever, one of the finest and most respected bands from that era. Their numerous hits were R&B-based with an undercurrent of jazz - a very unusual but winning combination of playing style and substance.
As a result, their records have a timeless quality and, some 60 years on, The Manfreds, with original frontman, Paul Jones, will be performing many of their hits, including 'Pretty Flamingo', '5-4-3-2-1', 'The One In The Middle', 'Come Tomorrow', 'Sha La La', 'Mighty Quinn', 'My Name Is Jack', 'Ha! Ha! Said The Clown' and, of course, 'Do Wah Diddy Diddy', one of the most popular and instantly recognizable songs of the '60s, and still the biggest audience pleaser at their concerts.
Paul Jones, original lead singer with Manfred Mann, will be joined by his replacement on lead vocals - Mike d'Abo, plus original member Tom McGuinness on guitar, with Rob Townsend on drums, Marcus Cliffe on bass and Simon Currie on saxophone/ flute.