The McClannon Brothers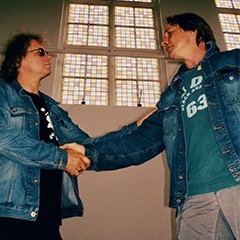 Sjoerd van den Broek (alias Dwight McCLannon) and Hans Sligter (alias Nigel McClannon) have a shared musical history that goes a long way back. They played together in many musical formations.
At the end of the 1990s there were the infamous "Samson Knights". In 2005 their mutual love for the music of the Beatles took shape in "The Strawberry Beats", a genuine Beatles Tribute that brought them to Liverpool on several occasions. In fact the McClannon's promo picture was taken in St. Peter's church in Liverpool, 2007, on the very same spot where John Lennon and Paul McCartney first met in 1957, exactly 50 years before!
The Strawberry Beats paved the way for "The Old Brown Shoes", another Fab Four tribute. Meanwhile Dwight and Nigel founded "The McClannon Brothers" in 2008 and together they established their live reputation in the next years to come. The last decade saw the rise of their new band "The LSB Experience." Between 2010 and 2021 they toured successfully on the European continent, in the UK and in the USA. These trips also took them aboard of several Star Vista cruises in the last few years.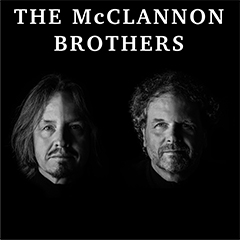 And now The McClannon Brothers are back.

As a duo they perform inspired versions of pop and rock classics from the 60s and early 70s. Timeless masterpieces of (just to name a few): The Beatles and The Rolling Stones, David Bowie, The Kinks, Bob Dylan, Procol Harum, The Monkees, The Beach Boys, Pink Floyd, Creedence Clearwater Revival, Crosby, Stills, Nash & Young as well as a variety of greatest hits singles from the Flower Power era will pass in review. Some people have referred to this new show as "A living jukebox from the sixties and seventies". During the 2022 Flower Power Cruise there will be about 100 songs in the jukebox to choose from!
While accompanying themselves on guitar, their genetically conjoined and inspiring voices will often carry their listeners along in visions of the rugged beauty of the Scottish Highlands.
A splendid time is guaranteed for all!