Tribute Artists Cara Lee, Joel Mason, Tim Stamper, George Trullinger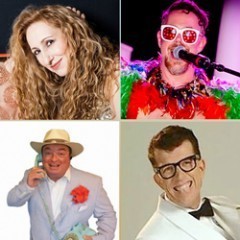 Cara Lee is originally from Toronto, Canada where she attended Sheridan College's Musical Theatre program. Cara Lee's singing career began at age 17 when she snuck into a bar to see a friend in a singing contest and entered the contest on a dare at the last minute – and won!
Discovered by world famous John Stuart from Legend's In Concert in Las Vegas, Cara Lee begins to show her versatility while performing her tribute to "Cher". Debuting with Legends In Concert at Bally's in Atlantic City, Cara has since gone on wowing audiences in theaters and showrooms worldwide.
In recent years Cara Lee began doing her tribute show to Janis Joplin "Cry Baby" which has been received with rave reviews and standing ovations. She has performed her tribute in many Woodstock style festivals including performing on world famous Fremont St. in Las Vegas.
A few career highlights include a tour in "Righteous Brother" Bill Medley's show – "50 Years Of Rock & Roll" in which she performed in the show as herself, Cher and Janis Joplin. This show ran at the OC Pavilion in Orange County where she also produced "Rock & Roll Divas" and "Divas Of Rock & Soul". Cara Lee has also performed her original music on the Main Stage at LA's Pride Festival. Cara was featured in 2010 on an album (Kenny Brand & Friends) alongside singing great Ellis Hall among others.
She can be seen regularly with her band at Nic's Beverly Hills where they have a Saturday night residency.
---
Joel Mason is a 30-year self taught musical comedian. After "paying his dues" in various country and rock bands around the country, he decided to develop his first stage show: Joel Mason's Tribute to Elton John. Within a couple of years, Joel Mason was one of the most sought after tribute performers in the world with the help of the global television exposure he acquired after MTV/VH1 produced a documentary about Joel's life as an Elton John tribute artist, which included interviews from Elton John. As a direct result of the broadcasts, Joel landed a short tour of Denmark performing with a 100 piece symphony for the Danish Queen and over 40,000 people at 3 different castles. During this time, Joel was becoming one of the most popular corporate event and cruise ship headline performers in the world with his Elton John Tribute show, as well as his new productions, including his Tribute to the Eagles, and his Rock & Roll Sitcom: Joel Mason & Friends, as well as writing comedy and co-producing shows for other touring entertainers. Joel currently contributes his musical and comedic talent and 15 years cruising experience to the largest charter company in the world, TimeLife Cruises, where Joel has worked and performed directly with some of his favorite performers such as Earth Wind & Fire, Gladys Knight, Kool & the Gang, Patti LaBelle, War, Billy Paul, Jeffrey Osborne, David Sanborn, Marcus Miller, Jonathon Butler, Dave Koz, Brian Culbertson, Dion, George Benson, Frankie Avalon, The Drifters, Chubby Checker, Bob James, David Brenner and many more.
>Joel also performs Dueling Pianos with some of the world's greatest piano performers in his home town of Las Vegas where he lives with his wife and daughters.
---
Tim Stamper, the son of Lon and Betty Jo, was born in 1962 in West Liberty, Kentucky. Tim's career as a Blues Brother started in 1983 with lip sync shows such as "Puttin' on the Hits". Tim then assembled a band and began performing and singing live for audiences in the Ohio area and toured throughout the Midwest in a Blues Brothers show band called Jake and Elwood's Blues Revue.
Tim has performed on cruise ships sailing to Mexico, Jamaica, the Bahamas, Grand Cayman and throughout the Caribbean plus a tour of Canada. Europe was one of his most favorite experiences performing in exotic places such as Paris, Berlin, Vienna, Brussels, Amsterdam, Barcelona, Lisbon, Morocco and also Saint Moritz, Switzerland. Tim has performed as a Blues Brother now for 23 years and still loves it with all his heart. He is often asked after a performance where he gets the energy to perform his stunts. He replies, "I get it from the audience."
---
George Trullinger is not only a great impersonator and musician, he has the audience cracking up with the comedy he throws into his act. He jokes about looking like a "geek" with his greasy, slicked-back hair, big horned-rim glasses, bow-tie, and white socks – but then really gets down to some serious rockin' and rollin' when he launches into well-known Holly favorites like "Not Fade Away," and "That'll Be The Day" – during which he has us all singing along.
George Trullinger always knew he wanted to be in the music business. A native Californian, George worked as a young man at Disneyland during the day and played in a band at night. The band was fun for George but he wanted a challenge and a challenge he received. He auditioned for the role of Paul McCartney in a Beatles tribute band. It was not long before George was portraying the legendary rocker on stage throughout the country. During this time, George affectionately calls this, "paying my dues."
While on the road as Paul McCartney, George also traveled with a Buddy Holly impersonator. When the regular Holly impersonator got sick before the show, George was the only one available who fit the costume. From that night, George began to perfect the sound and costumes of Buddy Holly. After a few months of practicing, George heard that Legends In Concert was looking for a Buddy Holly look-alike/sound-alike. By then, he had mastered the sound perfectly and his striking resemblance to the rock and roll classic star made him a shoe in for the show. With his charisma and energy, George captivated every audience, young and old. When he yells out, "Do we have any rock and rollers out there?" Response is thunderous to his outstanding performance of songs like "Oh Boy," "Peggy Sue" and "That'll Be The Day."