Partners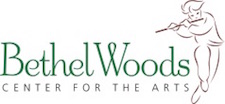 Bethel Woods Center for the Arts inspires, educates, and empowers individuals through the arts and humanities by presenting a diverse selection of culturally-rich performances, popular artists, and community and educational programming. Located 90 miles from New York City at the site of the 1969 Woodstock festival in Bethel, NY, the lush 800-acre campus includes a Pavilion Stage amphitheater with seating for 15,000, an intimate 440-seat indoor Event Gallery, the award-winning Museum at Bethel Woods: The Story of the Sixties & Woodstock, and a Conservatory for arts education programming.
Through the in-depth study and exhibition of the social, political, and cultural events of the 1960s, as well as the preservation of the historic site of the Woodstock Music and Art Fair, Bethel Woods educates individuals about the issues and lessons of the decade while inspiring a new generation to contribute positively to the world around them. The not-for-profit organization relies on the generous support of individuals, corporations, and foundations to develop and sustain programs that improve the quality of life in the region and beyond.
---

T.J. Martell Foundation, Music's Promise for Curing Cancer since 1975
We proudly support the T.J. Martell Foundation by donating auction items, which funds medical research to discover new treatments and cures for cancer with the support of the music and entertainment industries. A world without cancer is possible through targeted and bold investments in high-risk, high-gain cancer research that advances science and ultimately saves lives. Since its founding, they have raised more than $280 million for medical research grants at leading institutions nationwide. Their researchers have received approximately $1 billion in additional funding from sources such as the National Institutes of Health due to their awards. The T.J. Martell Foundation is a nonprofit corporation under IRS code 501(c)(3), EIN 51-0180178, and has earned a 2022 Gold Seal of Transparency with Candid GuideStar. For more information, please visit http://tjmartell.org.