The Rascals Keep Groovin'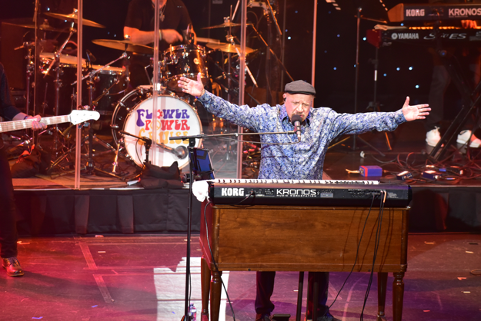 Felix Cavaliere has been a beloved member of the Flower Power Cruise family for years and his concerts are always one of the highlights for everyone onboard. Next year, he has something extra special planned for all of us: he'll be bringing original member of The Rascals, Gene Cornish, along with him for the first time ever. We are so excited to see the two of them perform together! We recently got a chance to ask Felix about what that reunion will be like and hear him share some memories of his incredible career.
"The feeling that I get onstage when I'm on the Flower Power Cruise is indescribable," Cavaliere raves while explaining what the experience will be like for Gene. "When people look at you with that type of love and acceptance that everyone on the cruise shares, it's just the most amazing feeling. And a lot of fun, too! I think Gene's going to be feeling the same thing. He's going to be thrilled."
"That's the joy of playing for the Flower Power Cruise audience," he continues. "Their spirit, their love for what you're doing and for what they're hearing is unparalleled. They love it. "
The cruise will bring Cavaliere and Cornish together nearly 60 years after they first met. Shortly after forming The Rascals in 1965, the group hit #1 with "Good Lovin'" and followed it with "Groovin'," "People Got To Be Free," "How Can I Be Sure?" and "A Beautiful Morning." Their music embodied the feel-good spirit of the Flower Power era, delivering dreamy love songs and powerful declarations all wrapped up in beautiful melodies.
"The 60s were sort of like the Renaissance period in terms of creativity and productivity. At first, original songs were taboo if your band wanted to work in the clubs," Cavaliere remembers vividly. "You had to either play Top 40 songs for people to dance to or you didn't get hired to play. But then people like Bob Dylan and the Beatles came along and changed all of that. All of a sudden, musicians were writing their own songs. That opened the door for us."
At the insistence of their record company, The Rascals recorded cover songs for their debut album. But after their chart-topping success, the influence of Dylan and the Beatles, and a rare clause in their contract that gave them complete production control, The Rascals soon moved away from the covers and dominated the charts with their own songs. "It was a struggle to get to that point but we made it," Cavaliere recalls. "There were a lot of conflicts and differing opinions. Like on 'Groovin' – our record company didn't think it was a good idea to put a song out without a drummer. The song has a conga instead. And they thought 'People Gotta Be Free' was going to alienate our audience. But we stuck by it." Instead of alienating fans, millions followed The Rascals as they evolved from doowop and R&B to classic rock and roll, to idyllic soul that experimented with Afro-Cuban and Indian sounds. "I can't even describe the feeling of what it's like to have your creative process be accepted by people. It's such a wonderful feeling."
Over the years, The Rascals have been honored time and time again for that creative process. They have been inducted into The Rock and Roll Hall of Fame, the Vocal Group Hall of Fame and the Songwriter Hall of Fame, while "Groovin'" is in the GRAMMY Hall of Fame. And Cavaliere continues to stretch the reaches of his creativity to this day. "During the Covid months, I took advantage of our time at home to work on a new album. The concept was to take five old songs that influenced me, re-record them and then write five new songs based on that influence. I had a blast. The album is called 'Then and Now' and I hope to have it ready by the time the cruise sails next year so I can share it with everyone on the ship."
He takes a moment to share his love of the Flower Power Cruise again. "Once that boat leaves the harbor, everyone pushes the clock back 30, 40, 50 years and all have a blast. There are a lot of people that we know who are regulars and come back every year. We've gotten to know them! And I try to be as personal as I possibly can with everyone. I say hello, sign autographs, take pictures…you name it."
And it's not just the fans that Felix is looking forward to seeing next year. "Tommy James is a dear friend, a great man…John Kay, wow, when I first moved here, he used to live nearby…I've toured with Randy Bachman. It's going to be a good cruise," he says with excitement. "I worked with the original Four Tops a lot doing commercials for Northwest Airlines, The Family Stone and I have crossed paths many times, and The Cowsills are some of the nicest human beings on the planet earth. And Peter Asher has been such a good friend over the years. When he introduces us onstage it makes me feel so good. The cruise is really like a reunion for a lot of us."
"You know," he says wistfully, "our generation was connected through music. Today, social media and texts and Facebook are what people use to stay in touch with each other. But we didn't have any of that. Our social media was the music. When Paul fell in love, everybody knew it because he wrote a song. When Keith got in trouble, he wrote a song. I love how the Flower Power Cruise brings us back to the power of music and how it connects all of us. I just cannot wait to see and play for you all!"