A Letter from the Executive Producer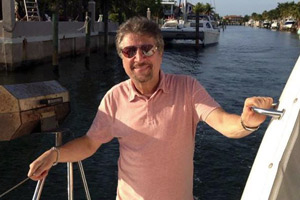 Well Flower Power family, it has been a little while since we last spoke, and I can assure you, I and the StarVista LIVE team are missing you all like crazy! I am glad to know that 2020 is finally behind us and we're starting to get back to a sense of some normalcy. It was a difficult year, and although we weren't able to sail together this year or last, all that has happened has brought me a new perspective on why our StarVista LIVE cruises are so special. Yes, the chance to get away, the sun-kissed days at the beach, delicious food, luxurious accommodations and of course the incredible live performances and entertainment make these cruises a vacation not to be missed. But what really matters in all of this is the community our Flower Power Cruise has created.
I miss more than ever seeing friends, new and old, dancing on the pool deck together, swapping stories about our pasts and the impact the music of the 60's had on all of us. I miss the overwhelming energy and camaraderie you all bring to this cruise, especially how you always embrace one another with positivity and kindness. In these times of uncertainty one thing is for certain - our Flower Power Cruise family always brings the love, positivity, and groovy vibes to our cruises.
I am happy to share that we have fully dived back into planning and programming for our 5th anniversary celebration of the Flower Power Cruise. And we have some very exciting news to share...THE GRASS ROOTS will be joining our stellar lineup in 2022! We can't wait to have them back performing for our biggest Flower Power celebration yet.
Until we come together again, stay safe and I look forward to seeing you on our 2022 Flower Power Cruise!
Alan Rubens, Executive Producer