A Message from the Executive Producer Alan Rubens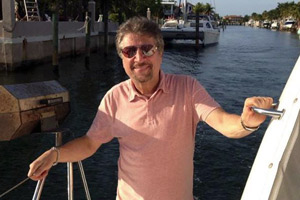 Our second Flower Power Cruise is almost here and we are counting down the days! Just a few weeks until we all come together to celebrate the spirit, style and music of the love generation. If you're already booked, I can't wait to see you onboard for another unbelievable trip. If you haven't booked yet, don't wait any longer because we only have a handful of cabins left. I look forward to all of the events, the beautiful sunny ports of call and of course the music! We're putting final touches on our onboard programming schedule which includes over 65 musical performances and celebrity interactive events that will bring this great era back to life for all of us.
Unique to StarVista LIVE cruises are our celebrity interactive events such as Q&A's, panel discussions and even a wine tasting and vow renewals. We are very excited to have Eric Burdon of The Animals joining us for our wine tasting this year. Our days will be filled with afternoon and evening concerts, panels, trivia games, karaoke, great food and a great ship - so get ready to experience a music festival at sea like none other!
We hope you are as excited as we are and are dusting off your bell bottoms, fringe vests and all things tie dye. We have a number of theme parties planned to get you back to your groovy roots. I can't wait to relive the very best of the sixties and create fantastic memories with all you Flower Children.
I hope you will all be joining us on our second sailing of the Flower Power Cruise. The StarVista LIVE crew, our cruise host Micky Dolenz, all of the amazing artists and the staff of the Celebrity Summit are prepared to make this cruise the Grooviest Trip at Sea.
Keep it groovy, my friends.
Alan Rubens
Executive Producer of the Flower Power Cruise