A Message from the Executive Producer Alan Rubens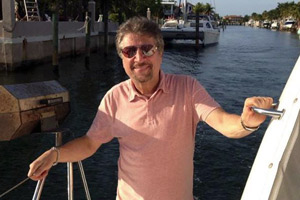 It seems like just yesterday that we started planning the inaugural sailing of the Flower Power Cruise. We were so excited to launch this concept believing this cruise would resonate with people who grew up in the '60s and were part of an era where the music was really all about who we were and how we looked at the world. We announced it in Spring 2015 and began spreading the word about how we wanted to relive the best of the Love Generation on the high seas and you responded with reserving your cabins and gearing up for a great trip together. We quickly sold out which meant that it resonated with you wanting to recapture the music and the vibe of simply being Happy Together.
Like many of you, I was part of the generation that thought it could plant the seeds of a better social order, a better world, and knew that one of the best ways to spread that message was through the music. It is truly a labor of love to have the opportunity to bring this wonderful music and these great artists together on a beautiful cruise ship while sailing through the Caribbean.
It is now just about three months since this first Flower Power Cruise docked back in Ft. Lauderdale on March 5th after five unbelievable days at sea. The time was filled with sharing the memories of that feeling of a dawn of a new age, complete with long hair, bell bottoms, tie-dye t shirts, and new attitudes. All while surrounded by music that made us who we are today.
I want to thank all of you who sailed with us and made that trip so memorable.
Now as we look forward to the Flower Power Cruise 2017, the line-up is as exciting as last year. With the recent announcement of The Zombies joining Eric Burdon and the Animals, The 5th Dimension, Three Dog Night and the other talented legends of the '60s, it will be something very special again.
We are almost 70% sold out for next year and look forward to seeing you back to help us remember and honor the sixties and all that it meant to us and all of the ways we enjoyed it.
See you next February!