Announcing More Artists AND More Cabins!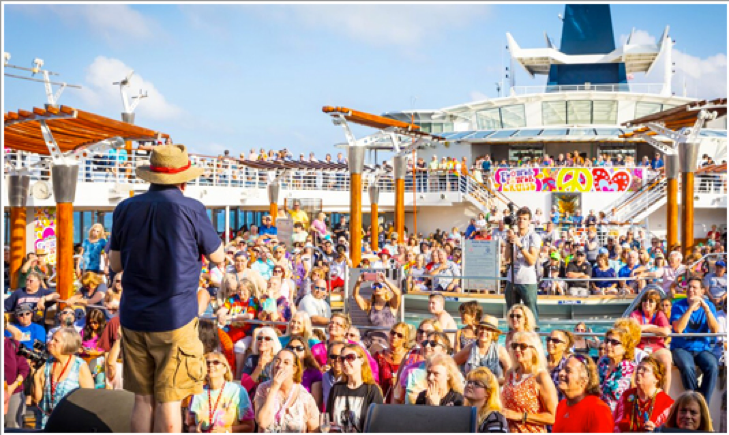 We are thrilled to announce that we have added a very special new artist to the Flower Power Cruise 2019 lineup – the legendary Cheech and Chong. The Grammy Award-winning duo will perform their standup routine and offer up some of their views on the hippie culture nostalgia we remember so well.
And that's not all, just like our guests who've made the Flower Power Cruise an annual tradition, we're fortunate to have artists just as eager to get back on board to experience the Grooviest Trip at Sea. We're excited to announce a few incredible alumni acts joining us once again in 2019.
Blood, Sweat & Tears topped the charts in the '60s and will have us on our feet with their unique and incredible musical style of blending rock, jazz and blues. If you've been on a Flower Power Cruise, you've probably kept rockin' once you've returned home after one of The Family Stone parties on the pool deck and they will be back once again in 2019. Peter Asher has graciously agreed to be our official Cruise Host again; he's always seen around the ship sharing stories from the road and in depth music knowledge with guests and fellow artist friends. The Cowsills and their angelic harmonies are back by popular demand as are Abbey Road on the River presents Hal Bruce and The Jukebox!
Also back by popular demand but bringing more of that '60s vibe"…Scott Freiman, Joel Mason, George Trullinger, Tim Stamper, Cara Lee AND we're still adding more bands that will keep the spirit of the '60s alive….The Who Generation a tribute that will recreate the visual and sonic magic of the original band and more to be announced. These incredible additions are joining a lineup that was already far out!
We're shaking out some cabin inventory so get on our waitlist now! Don't miss the opportunity to join us on the Flower Power Cruise 2019, get on the waitlist now and get ready to book once you receive Tuesday night's email!