The Site of the Woodstock Festival is now a National Register Historic Place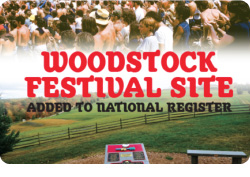 Do you often wonder what it must have been like that summer of '69? Do you wish you could go back in time and experience the Woodstock festival for yourself? Do you hope the grounds are preserved and interpreted for future generations to explore? We do!
From museum guests to pavilion performers it is undeniable that the vibe from 48 years ago still lives on. History was made here and the peace and love of the Woodstock festival still resonates on these grounds. Bethel Woods is proud to announce that the site of the Woodstock festival has been officially placed on the National Register of Historic Places, formally acknowledging the significance of our site's heritage. The National Register is a program of the National Park Service and U.S. Department of the Interior which recognizes the significance of buildings, structures and sites throughout the country.
Bethel Woods takes its stewardship of the Woodstock Festival Historic Site seriously and has begun the first phase of projects which will restore, preserve, and enhance the guest experience of the historic site. The first of these projects is well underway.
To learn more visit: http://www.bethelwoodscenter.org/the-museum/nationalregister