Shopping & Other Services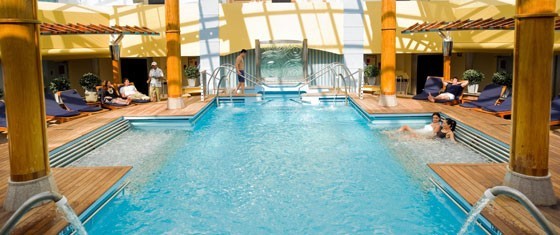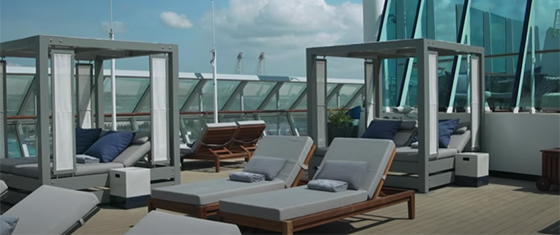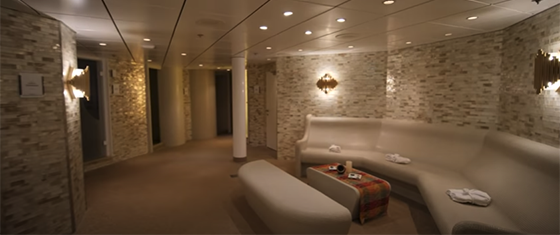 Art Gallery: Refined culture at sea is what you will experience in our inspiring and thought-provoking Art Gallery on board. Stop in on your way to dinner and it just might spark up an enriching table conversation; swing by after dinner and have a touch of sophistication for dessert. You may even find yourself buying an irresistible one-of-a-kind souvenir to bring back from your trip.
Canyon Ranch Spa: Since the first Canyon Ranch wellness resort was created in 1979, the Canyon Ranch experience has been focused on pursuing optimal health, learning how to feel your best every day. Encouraging people to become more active, informed participants in their health care, because wellness is largely based on everyday lifestyle choices about nutrition, stress management, preventative care and staying fit. You can find a place where you can relax, reduce stress and have a great time. At Canyon Ranch SpaClub® you'll find everything needed to feel and look fantastic every moment of your cruise. Enjoy legendary services and relaxing activities, or simply unwind in the tranquil SpaClub Persian Garden, where you'll be soothed by billows of steam and tropical rain showers.
Celebrity iLounge: Keep in touch 24 hours a day in the Celebrity iLounge, our one-of-a-kind hip Internet Lounge that is the first Apple® Specialist at Sea. Celebrity iLounge also offers various iLearn classes to help you master the latest photography, video and audio skills.
The Retreat Lounge: A premium, private lounge for those in Suite Class guests, this exclusive 24 hour lounge features a large-screen TV, reading areas stocked with magazines, newspapers and books, plus a continental breakfast. Complimentary pre-dinner drinks and tapas are served 5:00PM-8:00PM daily, and the dedicated concierge can help arrange your specialty dining, shore excursions, and even handle inquiries about various ports of call.
Library: Our handsome two-story library features books in many languages.
The Retreat Sundeck: Celebrity Summit will exude freshness at the highest levels—literally. We've created a chic new Rooftop Sundeck where you can kick back and relax. The inviting scene will welcome you with cozy new furnishings and artistic elements. It'll be the trendiest hot spot at sea.
The Emporium: The Emporium is a shopping experience at sea. Here you will find well-known name brands, one-of-a-kind collectibles and a range of upscale personal accessories selected to please the most discriminating tastes.
Fortunes Casinos: Fortunes Casino offers a sophisticated ambiance and a captivating atmosphere that comes alive with slots, tables and plenty of action. Our casino rivals the biggest and the best land based casinos, and offers custom limits and better odds across a variety of games. With late hours, action-packed tournaments, and Lady Luck on your side, this is where you play to win. Table Games Offered: Blackjack, Single-Deck Blackjack, Roulette, Baccarat, Three-Card Poker, Let-it-Ride Poker. Slot Games Offered: Reel, Video, Video Poker with denominations starting at $0.01
Persian Garden: Accompanied by the calming strains of new age music, enjoy the warmth of a relaxing steam or treat your skin to the solitude found in a private sauna.
The Outdoor Pool: Spend the day by the pool. Relax with a book, or have a bite at the grill. Enjoy the serenade of the music from the bandstand and dance your heart away on the dance floor. For a refresher, take a dip in the pool or rejuvenate in the whirlpool.
Solarium Indoor Pool: Let the serenity surround you at this indoor pool reserved for adults only. The sound of waterfalls will transport you to a divine state of relaxation while you stretch out on thickly padded lounge chairs or melt away stress in the hot tub.
Fitness Center: Bring your workout routine along for your modern luxury cruise. Reflection's fitness facilities feature a jogging track, sport court, and a full suite of state-of-the-art cardio, core, and weight training equipment for every fitness level. Get shipshape and enjoy beautiful ocean panoramas through the fitness center's floor-to-ceiling windows. Equipment includes treadmills, rowing machines, stair climbers, recumbent bikes, elliptical, cross trainers, and free weights. Join one of many daily group fitness classes, or have a personal consultation with a wellness professional on exercise, diet and lifestyle. After your session, relax and rejuvenate in the sauna or Solarium pool.