A Letter from the Executive Producer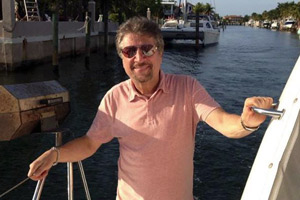 These days, I think we can all agree that we're in need of a little peace, love and harmony. When I originally came up with the idea for the Flower Power Cruise, I knew it was important to bring back the memories and the music that helped shape our world and created the love generation. I am thrilled to announce that with six months left before we set sail on a journey back in time, we are officially SOLD OUT!
Thank you so much for your love and support of this cruise. These past two years of cruising with you have been truly incredible and I feel extremely lucky to share a love of music with so many wonderful people. That's what's special about the Flower Power Cruise, isn't it? The camaraderie we share when we hear the songs that take us back to our younger years and an era that meant so much to us. It was filled with new hopes and dreams and new attitudes and there was such wonderful new music that we can all continue to enjoy.
We're officially in the heat of the summer and that means we are working hard on programming in some new activities, acts and events to make for the Grooviest Trip yet. We've recently added some amazing tribute artists that will keep us dancing all night long. Light My Fire – A Tribute to The Doors and Kiss The Sky The Re-Experience – a Tribute to Jimi Hendrix will be joining us on the next sailing to play some of your favorites by some of the most influential artists of the 1960s. As the cruise gets closer, we'll be announcing more exciting events and themed parties so stay tuned!
Peace,
Alan Rubens, Executive Producer