A Letter from the Executive Producer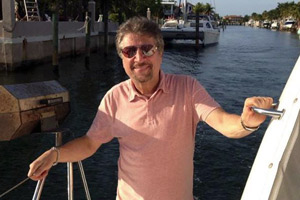 Wow, man! Your enthusiasm for the Flower Power Cruise is truly amazing and already has rocked the boat to over 90% sold for next year's cruise! This is a testament to our guests who have carried the vibe back on land and are spreading the love with their families and friends. This year's cruise will again surely be the Grooviest Trip at Sea as we celebrate the Love Generation with now SEVEN full days of music and groovy vibes. We are working hard preparing the programming for what will be a week full of music, activities and incredible themed events that will keep you flying your freak flag and on your toes all day and all night.
Many of us at StarVista LIVE recently returned from our Beatles inspired land based festival, Abbey Road on the River, where we enjoyed performances by many of our own 2018 Flower Power Cruise artists including Herman's Hermits starring Peter Noone, The Grass Roots, The Family Stone and Mark Lindsay former lead singer of Paul Revere & The Raiders. We've once again secured the incredible tribute acts Hal Bruce, BritBeat and The Jukebox to fill the boat with the best of The Beatles and 60s legends. And of course we always enjoy an educational and amazing performance by Peter Asher, who we are very excited to have as our Cruise Host in 2018! Our 2018 lineup will be unbeatable with these artists as well as The Hollies, The Turtles featuring Flo & Eddie, Felix Cavaliere's Rascals, The Guess Who, The Association, Canned Heat, The Buckinghams and many more!
I can't wait to celebrate with all of you as we relive the spirit of the '60s with legendary artists on this luxury cruise. With less than 50 cabins left, we are sure to sell out very soon. Don't miss the boat on this ultimate festival at sea as we experience the Love Generation all over again.
Peace,
Alan Rubens, Executive Producer