A Message from the Executive Producer Alan Rubens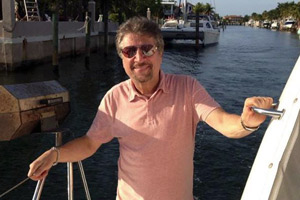 We knew our inaugural sailing of the Flower Power Cruise would be tough to beat, but it's safe to say we did it on our 2017 sailing! I would like to thank each and every one of you that cruised with us this year. It was great getting to see and meet many new faces, but I also loved catching up with those of you that sailed with us in 2016.
You all, the fans and true Flower Power children, make our jobs so easy and worthwhile and we can't thank you enough for that. You all know that the Flower Power Cruise is something special, as the music, the costumes and the all around happy vibes bring us back to a very special time in our lives. It really felt like a music festival at sea, with music from the love generation surrounding us all day and all night. Eric Burdon and The Animals, The Lovin' Spoonful, Three Dog Night and The Zombies played the main stage as the crowd danced and sang along to their fantastic hits. Micky Dolenz was all over the ship talking to guests, signing autographs and performing the classics from The Monkees. The Family Stone rocked the pool deck for the Psychedelic '60s dance party. Always a crowd favorite, Jukebox and BritBeat had us singing along to Beatles' songs and Peter Asher had an extremely entertaining and educational show. In addition to all of the music there were trivia contests, karaoke, Q&As, wine tasting, and many, many more events that made us feel like we were part of the Love Generation all over again.
I hope you'll join us for our 2018 sailing, which will be bigger and better than ever as we sail for seven full days. We'll use those two extra days to twist and shout to even more incredible music from the Flower Power era. Back by popular demand we have Herman's Hermits starring Peter Noone, Felix Cavaliere's Rascals, The Guess Who, The Grass Roots, The Family Stone and The Buckinghams joining us as well as some first timers including The Hollies, The Turtles featuring Flo & Eddie, The Association, Canned Heat and many many more! There will also be a very special performance of 50 Summers of Love starring Micky Dolenz of The Monkees, Mark Lindsay former lead singer of Paul Revere & The Raiders and The Fab Four the Ultimate Tribute. Finally, I am excited to announce that Peter Asher will be joining us again, not only as one of our incredible artists but also as our Cruise Host!
Cabins for 2018 are booking up fast and we are already 70% sold! Book today and join me again on next year's Flower Power Cruise for yet another incredible week at sea!
Alan Rubens, Executive Producer