Catching Up With BritBeat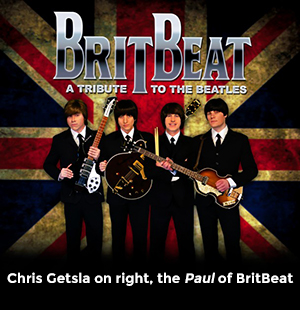 A FEW MOMENTS WITH CHRIS GETSLA OF BRITBEAT
Sad but true, we'll never see the Beatles live on-stage again. Paul McCartney, who's 75 this year, still puts on a hell of a show, as does Ringo Starr, but we have to turn to tribute bands to capture the explosive, anarchic energy of the Beatles in the Sixties. That's why we brought in BritBeat from our sister event, Abbey Road on the River. They're young guys and their multi-media show takes us back to every phase of the Beatles' era-defining, era-changing ten-year recording career. BritBeat has been a star attraction on both Flower Power Cruises, and founder, Chris Getsla, looks forward to joining us again in 2018.
What gave you the impetus to form Brit Beat?
We started in 2000. I was a junior in high school, and I wanted something fun for the high school variety show. This was in Glenview, Illinois. I was already a huge Beatles fan, so I decided to play Paul McCartney and I persuaded three friends to portray the other Beatles. It was a real hit then, and we've worked on the show ever since. Sixteen, seventeen years later. We're all Beatles fanatics, and it's a privilege to get up there and play the music.
Do you perform songs from the entirety of the Beatles' career?
We do it all from the Cavern to Abbey Road. It's a multi-media theatrical experience.
Is it hard to stage the songs from the post-'Revolver' years when the Beatles had more complex arrangements and employed studio gadgetry?
It can get tricky. We have a fifth member. I guess you'd call him our Billy Preston. He's a keyboardist and he plays all the orchestrations live with us.
Some of the later recordings were fiendishly complex for pop music. Which was the most difficult song to figure out and arrange?
We do amazing things on the keyboard, but perhaps the most difficult was "All You Need Is Love." There were so many instruments. We run 64 keyboard tracks all at once to recapture it. And of course the medley from Abbey Road is pretty difficult. It's a challenge to put it together, but it's fun for us, and a real joy when we get so close to the original.
Considering that Paul and John had such different voices, they harmonized seamlessly. How do you go about re-creating those harmonies?
Every one of the Beatles was a great singer … even Ringo who tends to be shortchanged as a vocalist. We've analyzed all the songs, analyzed how they pronounced words, and re-created their inflexions. We listened carefully, watched a lot of video, and, along the way, we learned to speak Liverpudlian.
Do you tell the Beatles' story or let the songs tell it?
We have a multi-media video screen that's part of the show. The video has narration at the beginning and during costume changes. For example, we tell how the Beatles went to India while we change costume to do "Within You, Without You." We use narration for transitions. In all, we do six costume changes during a two-hour show.
Some people thought that the Rolling Stones were the premier live band, while the Beatles were the premier studio band, but the movie 'Eight Days a Week' showed that the Beatles put on a hell of a live show.
Look at The Ed Sullivan Show. The energy on that first show seals the deal. They were real showmen. They sung, performed, and projected. And they always had a great look. We pay close attention to their suits, boots, and so on. We nail it with one hundred percent accuracy. In 2014, we played the Indianapolis State Fair recognizing the fiftieth anniversary of the Beatles' show there. We played at the State Fair Coliseum, the same venue the Beatles played. When we set up, they asked if we wanted to use the microphone stands that the Beatles used. We said, "Of course." To verify it, we looked at photos and there was a little piece of white string hanging from John's mic, and it was still there. They'd hardly used them since the Beatles' appearance.
It has been fifty-one years since the Beatles' last show, forty-seven since their last album and break-up. What brings new generations of fans to them?
It was the Anthology TV show, book, etc. that got me into it. It was very in-depth. Apple has done a great job of keeping it all alive. The Cirque de Soleil show, the Rock Band video game, the 1 CD, Eight Days a Week. It's the gift that keeps on giving to us and all fans. It brings in new fans all the time. There's so much story there. The music isn't dated. Look, I'm 35. I'm one of the generations that never saw them or on TV, but I'm such a huge fan.
When you look at the Flower Power era, so many great albums were released literally every week. What happened during that very compressed time-frame to provide the impetus for so much great music?
There was no decade like the Sixties. The evolution from the early 1960s to the late '60s was unbelievable. And you had so many great bands … the Beatles, Stones, Beach Boys, and so on. I think they'd try to one-up each other. You listen to Paul's interviews and he certainly says that. Everyone was so keen to try new things, and studio technology was evolving so it could all get down on tape. Politically, of course, it was a highly charged time, too.
What's your personal favorite Beatles song?
I'm asked that a lot. I have different favorite songs from every one of their eras, but I love every song on the Hard Day's Night album. From the later years, I love "Hey Jude." But "Hard Day's Night" was the song that got me into the Beatles.
What's the best compliment you've received?
Someone came up to us and said we did a great job miming to the music, and when I told him it was all "live," he was stunned. Sometimes, we throw a song out to the audience so they'll know it's us playing and singing.
We hope you enjoyed the Flower Power Cruise, and we're so pleased you're coming back.
It was one of the highlights of our career to perform alongside all those great original artists. An absolute privilege. A delight and a privilege. Performing every day gave us the freedom to expand our show so we didn't repeat anything. StarVista Live has been terrific to work with, and all the guests we met had a fabulous time. I hope they invite us back every year!
Colin Escott © 2017