"Come Join Us, Say "Hello!" - Rod Argent of The Zombies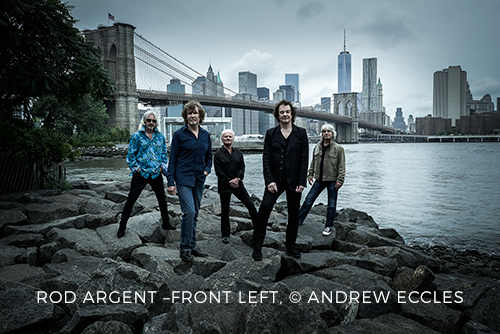 The 1990s Zombies reunion was one of our era's most welcome events. They'd been apart for thirty years, but, as Rod tells us, the split had been amicable, and they'd had none of the often bitter disputes about who owned what. Originally, they were from St. Albans, Hertfordshire, England, just north of London. Most of them were choristers, and that background gave their music its unique character. R&B met Gregorian chants. It wasn't the St. Albans Sound; it was the Zombies' sound. Founding member Rod Argent is warm and gregarious, and seems to have total recall, so if you can catch him on board he'll share some great stories. Meantime, here are a few…
What was the first record you ever bought?
Tommy Steele's "Singing the Blues." Guy Mitchell and Marty Robbins did it in the States, and Tommy Steele covered it in England. The next 78 I bought was Elvis Presley's "Hound Dog."
And what was the first song that the Zombies ever rehearsed?
We weren't the Zombies then, but it was "Malaguena." While we were trying to figure who played what, I started playing B. Bumble's "Nut Rocker." I'd just met Colin Blunstone, and he came rushing over. "You've got to play piano." This was 1961. I thought we'd be a guitar band.
Paul Arnold, the guy who came up with the name "Zombies," soon left. Are you still in touch with him?
Yes. He became a doctor and moved to Canada. I see him most years.
Did anyone except Paul know what a zombie was?
I knew it was something to do with resurrected dead people. I loved the name. I thought it was very exotic. Haiti. Voodoo. All that. Colin didn't know what a zombie was, though.
Many British bands tried to sound American. The Zombies not so much.
We loved American rock 'n' roll – Elvis Presley, Jerry Lee Lewis, Little Richard – but we sounded the way we sounded. The year after we started, the Beatles scored their first hit, and they turned us on to Motown, the Isley Brothers, and so on. We wanted to play that music, too, and again we didn't think about our accents. Then I started writing songs. I gave the first one to another band. The Zombies took the second one, and then I wrote "She's Not There." I wrote it for Colin's range and our harmonies. From the beginning, I was very involved in songwriting and harmony. The Beatles did a lot of harmony, but it was pretty unusual for that era.
You had more hit singles here in the States than at home. Why was that, do you think?
I've thought a lot about that. One reason was that our manager didn't like rock 'n' roll. He had no sense of image, unlike Andrew Loog Oldham who managed the Stones or Lambert & Stamp who managed the Who. Our manager was an old school Forties big band era guy. He arranged our first photo session and we looked so uncool. I know we were just out of school, but so was Mick Jagger. When we released "Tell Her No," they ran those photos, and whenever a story ran about us, they'd pull out those nerdy photos. They had better photos, but our image was managed so badly at a time when it counted. In the States, they managed our image better, and put a bigger push behind the records. But this year BMG Books is putting out a book about us, a coffee-table book, with terrific photos, and some great endorsements from Graham Nash, Brian Wilson, and a bunch of others. I hope it'll be ready in time for the cruise, but even if it isn't, you'll see our real look.
You came to the States in 1965. What was your first impression when you got off the plane?
These days, New York is one of my favorite places, but back then it was so completely overwhelming. It was like we'd been transported to another universe. We weren't ready for the energy, maybe even aggression, of New York. Now I see it as energizing. The cars looked like jukeboxes on wheels. It was very daunting and very exciting all at the same time. We'd listened to R&B and loved it, and we were suddenly at Murray the K's Christmas show alongside Ben E. King and Patti LaBelle. Patti was so kind to us. She talked to us for hours about music. Told us about Aretha Franklin when no one knew who she was. We did six shows a day for Murray the K., starting at eight o'clock in the morning, but we just did two songs. I thought they'd hate us, but we did really well.
Back then, no one counted on any pop singer lasting more than a couple of years. Why do you think the music of the Sixties has proved to be so durable?
My dad was a semi-pro dance leader from around 1917 until 1983. He was always asking what we were going to do when it blew over, but our generation's rock music has been the longest-lasting form of popular music there ever was. One reason was that we spent a lot of time structuring our music so it would communicate to our audience. These days, I don't think people spend as much time getting that right. You can sample a beat or a rhythm and build quickly around that. But if you spend time on the songs, as we did, you can arrive at a longer-lasting piece of work.
Did you become close to any other artists from that era?
Ironically, not until recently. Many groups were from Liverpool or Manchester. They moved down to London and hung out together. We'd go home at night because St. Albans was only eighteen miles from London. When I did Ringo Starr's All Starr tour in 2006, people figured we must be old friends from back then, but I'd never met him. I knew Pete Townshend and Graham Nash well enough to talk to, and that was about it. We were working a lot. There was just one motorway in England then, the M-1, and there was a service station where we'd stop at, say 2AM, and we'd often see other groups in there, but never well enough to get to know them. We were all working nearly every day. And we all earned next to nothing from it.
What were the discussions like preceding the Zombies' break-up in 1967?
Purely commercial. We'd just made Odessey and Oracle, and we were very proud of that album, but I did all the songwriting with Chris White. The other guys in the band who weren't writers were hard up. There was just no money in it for them. Our guitarist, Paul Atkinson, went into the business end of the record business and became very successful. He signed Elton John, Abba, and many more. Hugh Grundy briefly went into the record business, and then he started a horse transportation business. Colin made solo albums and had hits in Europe, but they didn't do too well in the States. Chris White and I worked together in Argent, Chris as a songwriter.
After the Zombies broke up, you scored a hit in the States with "Time of the Season." Several knock-off bands toured as "The Zombies," including one group that became Z.Z. Top. Did you ever meet Z.Z. Top later on and ask them about it?
I only found out about it last year! They called themselves "The Zombies" in inverted commas, and in the publicity photo they're wearing western hats, which of course we didn't!
In your shows, do you take time out to do your solo hits, like "Hold Your Head Up"?
We do. What we've found is that audiences leave our shows saying they had no idea that, collectively, we had so many songs they knew. We do a few new songs, too, and our experience has been that audiences love them as much as the classics.
Have you worked on cruises before?
We've done three of them, and we loved them. We're really looking forward to meeting everyone, artists and fans. It'll be great being in one place instead of touring. And we'll be going around the Caribbean in winter! So come join us. Say "Hello!"
Colin Escott © 2017