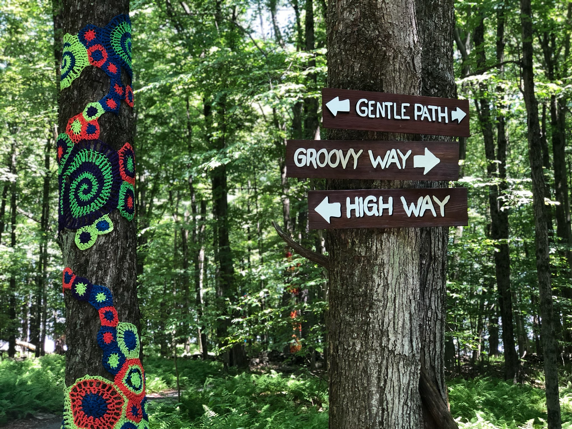 Bethel Woods Center for the Arts, the nonprofit cultural arts organization located at the historic site of the 1969 Woodstock festival in Bethel, NY continues its year-long celebration of the 50th anniversary of the greatest festival of all time with a large-scale yarn art installation, Embracing Bindy: Crocheted Connections, by renowned fiber artist Carol Hummel in the recently opened Bindy Bazaar Woods.
During the 1969 Woodstock festival, the Bindy Bazaar served as a grouping of 20 booths where vendors sold crafts and clothing. The area also connected two major sections of festival grounds. As part of an ongoing project dedicated to preserving and interpreting the historic site, Bethel Woods opened the wooded area on May 4th for public exploration, complete with historic, contextual annotations throughout the .25 mile loop for guests to digest.
To continue to highlight this faction of festival history and to bring to life the sense of art, craft, and joy that was fundamental to the Bindy Bazaar, Bethel Woods has commissioned a large-scale public art installation located in the historical footprint of the Bindy Bazaar Trails, in collaboration with award-winning producer Gay Rosenthal and Gay Rosenthal Productions. Carol Hummel will stitch together colorful crocheted shapes that organically wrap, hug, and embrace the trunks and branches of trees along the walking path in Bindy Woods, creating an ever-changing environment vibrating with color, light, shape and form. The project will emphasize the use of textile and color celebrated in the era, juxtaposed with a technique unique and representative of contemporary times.
Crocheted Connections is on display now thru December. For more information, please visit BethelWoodsCenter.org