We need a bigger boat! So we've added a second cruise!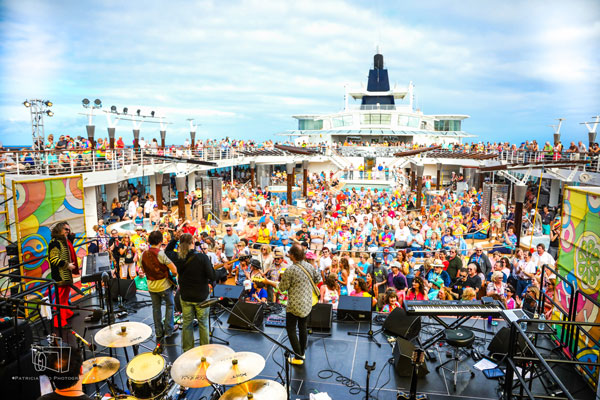 We are shocked and ecstatic that our 7-day Flower Power Cruise 2020 sold out in record-breaking time! We'd hate to have so many people miss out on the Grooviest Trip at Sea, so we would like to offer a second chance. We are in discussion with the cruise line and many superstar artists of the era to add a 5-day Flower Power Cruise in 2020 as part of our 5th anniversary celebration.
We plan to sail the new 5-day sailing back to back with the current 7-day 2020 voyage on the lovely and well-appointed Celebrity Infinity*. Sailing from Miami, FL March 23-28, 2020 and making two sun-soaked ports of call in beautiful Caribbean destinations*. Our superstar lineup will feature some of your favorite artists of the Love Generation. The roster we are hoping to have on this sailing includes The Zombies, Felix Cavaliere's Rascals, The Guess Who, The Cowsills, The Box Tops and many more that we can't quite reveal to you…yet*. Of course, we'll have all the Flower Power events guests have come to know and love such as panel discussions, artist Q&As, autograph signings, theme nights and more.
We need your help to make this a reality! Confirm your interest today in joining us on the 5-day sailing by registering below for our presale event. By registering, you will have a chance to book the new 5-day voyage before sales open to the general public. But that's not all – registration also secures you the lowest rates available!
For our 2020 7-day guests:
For you Flower Children that want to book for 12 DAYS (both the 5-day and 7-day, back to back), you may book your same cabin and occupancy with the ability to change your dining time. As a booked guest on the 7-day 2020 cruise, you will receive the lowest onboard rates available for these additional 5 days. More pricing details will be sent via email. You will be emailed your unique personal identifier link to begin booking on May 14th.
The link will be active until 9am EST on May 15th.
For our loyal fans and previous guests:
If you missed your chance to book the 7-day Flower Power Cruise 2020, we have an exclusive offer for the 5-Day voyage. By booking online during the 24-hour presale event you have the opportunity to secure your spot and best cabin choice available before booking opens to the public. You will also receive a special Insider rate.
| Category | Description | 5-Day Insider Rate (per person) | Savings over Published (per person) | 5-Day Published Rate (per person) |
| --- | --- | --- | --- | --- |
| PS | Penthouse Suite w/ Veranda | $ 6,699 | $ 200 | $ 6,899 |
| RS | Royal Suite w/ Veranda | $ 3,849 | $ 150 | $ 3,999 |
| CS | Celebrity Suite w/ Veranda | $ 3,199 | $ 150 | $ 3,349 |
| S1, S2 | Sky Suite w/ Veranda | $ 2,749 | $ 200 | $ 2,949 |
| FV | Family Ocean View w/ Veranda | $ 2,649 | $ 200 | $ 2,849 |
| A1, A2 | AquaClass w/Veranda | $ 2,249 | $ 200 | $ 2,449 |
| C1, C2, C3 | Celebrity Concierge Class w/ Veranda | $ 1,999 | $ 250 | $ 2,249 |
| 2A, 2B, 2C | Veranda Stateroom | $ 1,849 | $ 200 | $ 2,049 |
| 4, 5, 6, 7, 8 | Ocean View Stateroom | $ 1,699 | $ 100 | $ 1,799 |
| 9, 10 | Interior Stateroom | $ 1,399 | $ 100 | $ 1,499 |
| 12 | Interior Stateroom | $ 1,299 | $ 50 | $ 1,349 |
| 11 | Interior Stateroom (Singles) | $ 2,199 | $ 50 | $ 2,249 |
Don't miss your chance on this one too! The Flower Power Cruise always sells out far in advance, so register for the presale today by reading the "Important Registration Details…" and following the "Steps to Register…" instructions below.
Important Registration Details for the Exclusive Booking Event:
You must register by COB Tuesday, April 30th in order to be able to make a reservation online during the presale window. (Please note: you are not making an actual booking at this time, you are simply registering to have the ability to make a booking during the presale window).
Your registration will include the ability to make a reservation for you and companions in your cabin. Each person in the cabin does not need to register separately.
In the "How did you hear about us" section, enter the special promo code 5DAYPRESALE for the special insider rate and $100 onboard credit to use onboard the 2020 5-Day Flower Power Cruise.
Once you have completed your registration, you will receive a confirmation email that you have successfully registered for the event. NOTE! If you do not receive a confirmation email, your registration is invalid, and you will not be able to make a reservation during this exclusive presale window.
By registering in advance for this special presale event you will receive a Unique Token Code that will provide you access to the reservation system during the presale window.
You will be able to book beginning Thursday, May 16th with your Unique Token Code that will be emailed to you. The 24-hour booking window will begin at 9am ET that Thursday, May 16th and end at 9am ET Friday, May 17th.
*StarVisa LIVE reserves the right, in its sole discretion, to change pricing, dates, talent performing onboard the cruise, ports, ships or to cancel the sailing altogether with no further obligation to you. All information contained in this email is tentative and subject to subsequent confirmation.