Meet Your 2019 Flower Power Cruise Host, Peter Asher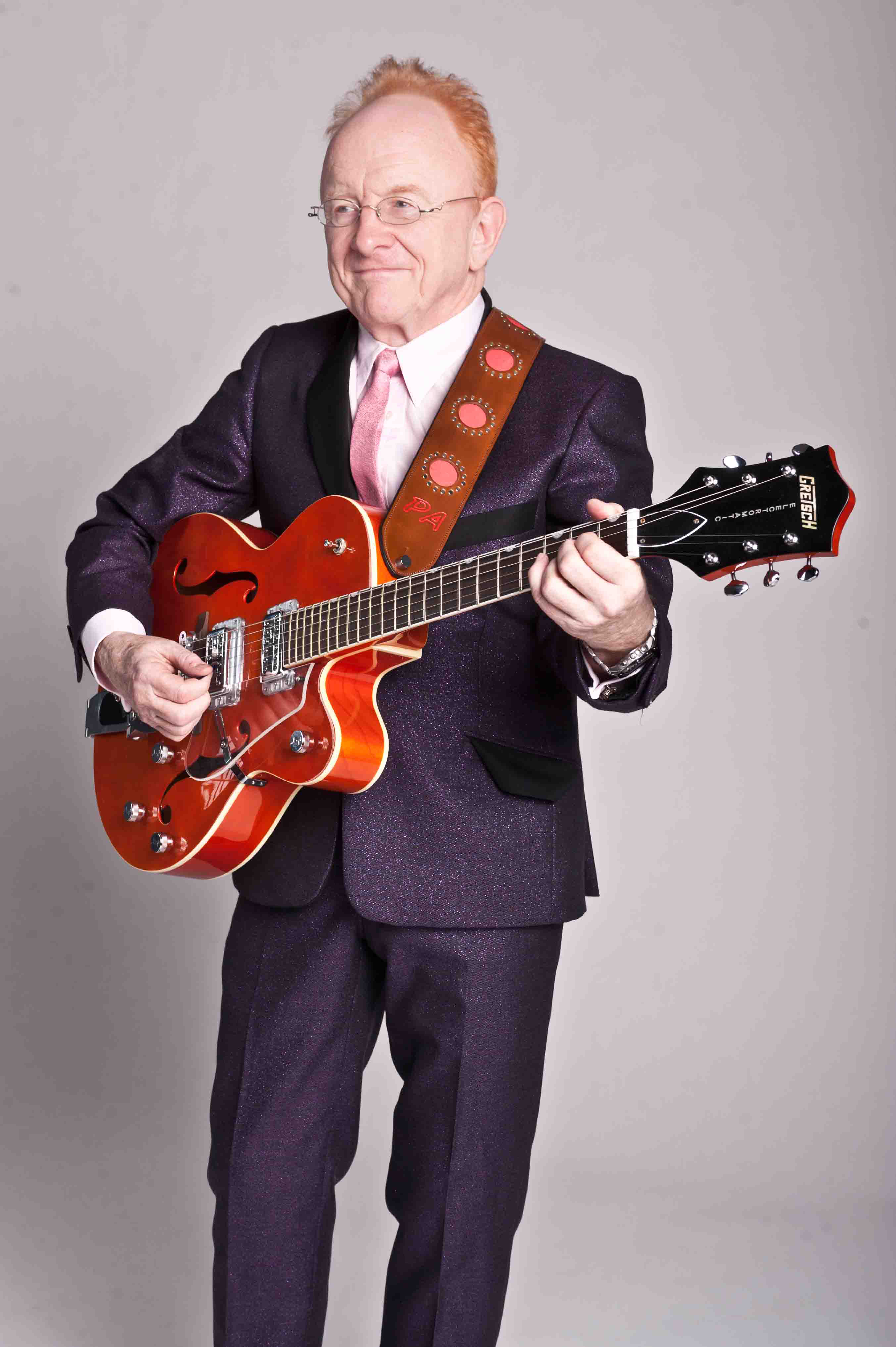 Guests on the 2016 and 2018 sailings of the Flower Power Cruise have great memories of Peter Asher's music and memories show. If he's unfamiliar to you, here's a brief run-down of a long, wildly successful, and unbelievably varied career. Peter's mother taught oboe at London's Guildhall School of Music. One of her students was George Martin; yes, that George Martin. And Peter's Beatles connection didn't end there. His sister, Jane, was an actor who dated Paul McCartney for five years, and for some of that time Paul lived at the Ashers' house. Peter was a child actor, then a Sixties pop star as half of Peter & Gordon, and then a producer of MANY hit records for James Taylor, Linda Ronstadt, among other. Behind-the-scenes, he has been an artists' manager, club owner, hip gallery-bookstore founder, Broadway music supervisor, and a collaborator on movie soundtracks. He's currently the host of his own show on Sirius-XM's Beatles channel. When he says he likes to stay busy, believe him.
Peter not only had a front-row seat for the Flower Power era, but remembers it all, and truly enjoys sharing his music and stories. He has said often that he'll never write his autobiography so his personal appearances, mixing recollections and music, are close as we'll get. He talks with the briskness and erudition you'd expect of a former philosophy student and a member of MENSA (the club that excludes 98 per cent of us!)
In 2019, he's returning as the host of the Flower Power Cruise, and, as he tells us, he's very much looking forward to it.

Welcome back. As you know, we've already sold out the 2019 sailing of the Flower Power Cruise and we're so pleased you're not only coming back, but coming back as host.
I'm as excited as you are. I've loved both Flower Power Cruises that
I've been on.
If you're an artist working a cruise, you can't get on the tour bus and leave town. You're in line at the breakfast buffet and you're all around the ship with the guests. Are you fine with that?
Oh, yes! For the week that I'm on the Flower Power Cruise, I'm actually famous, not someone who used to be famous a long time ago! And I'm happy to be famous for a week. Sign autographs, take photos, share stories, I love it all. It's fun. I never feel bothered by the guests. I never feel like I want to run and hide. What was that Greta Garbo line, "I vant to be alone." I never felt that way. I enjoyed the whole process, beginning to end.
Was there one interaction in particular with an artist or a guest that sticks in your mind from the last FPC?
Interesting question, but no. Many guests come up to me. They ask questions, never rude or overly personal questions. They share things about themselves, and I'm always interested to hear their stories. I can't say there's one interaction that stands out above them all.
Can you talk a little about how StarVista Live treats you and
your fellow artists?
They're really genuinely concerned that the performers and guests have a great time. It's so well organized. All we have to do as performers is show up, sing, and, in my case, tell my stories. Everyone is there to have a good time, and we do. There's such a great atmosphere, you can't fail to be swept up in it. By the last day, you don't want it to end. You leave the ship with a great sense of loss. Let's do another week, and then another.
We have the Beach Boys joining us. Back in the Sixties, did you look forward to every Beach Boys' album because, like the Beatles, they were redefining what the popular album was?
Oh yes, I paid close attention to everything the Beach Boys did. Brian Wilson is a genius, and I use that word sparingly. I'm so glad to say that I met him and got to know him. They were a great band, but those songs made being a great band a lot easier. We toured with the Beach Boys back in the Sixties. We watched them in awe every night.
We have the Yardbirds joining us in 2019. It seems that there were two waves to the British Invasion. The first… of which you, Chad & Jeremy, and Peter Noone were a part… was more pop. The second wave, starting with the Stones and the Yardbirds, was more blues.
Some of us were more influenced by pop music and some more influenced by Howlin' Wolf. All of us were influenced one way or another by Rhythm & Blues. I guess you could say that Peter & Gordon were more pop, but don't forget that Brian Jones of the Rolling Stones played harmonica on
two of our songs.
(In case you wondered what Peter and Gordon with Brian Jones sounds like, here's their version of the old Elvis hit, "Mess of Blues" from 1964 from the In Touch album).
Is there a song that you and Gordon did that wasn't a hit or a big hit, but you thought deserved a better fate?
I don't think so. Gordon wrote one that was on our next-to-last single. It was called "You've Had Better Times" and it came out around 1968. Great song but it didn't do anything. In general, my favorites were the biggest hits, not because they were hits and made more money but because whatever it was that made them hits is the reason that I like them, too. I never tire of playing them.
Your last Top 40 hit, "Sunday for Tea," is about as English as a record can be. Did anyone at Capitol Records in the States say, "Hey, guys, what is THIS about? Crumpets?"
Quite the opposite. They encouraged it. Loved it. They wanted us to be caricaturedly English. They promoted it that way. They looked on the Englishness as a marketing component.
This year, musical theater composer and impresario Andrew Lloyd-Webber published his autobiography. Apparently, you and Gordon went to the same school as Lloyd-Webber. Did you know him then?
He was a year younger and that counts for a lot when you're that age. He wrote some of his first musical, Joseph and the Amazing Technicolor Dreamcoat, when he was still at school. I can't say I knew him well, but I knew what he was doing. He workshopped the first amateur production of Joseph when we were still at school. He was very clever, very smart. And Gordon was in the first West End production in 1972. He played Pharoah. Gordon was a big Elvis fan and he Elvis'd up the role, and it has stayed Elvis'd up. Sadly, I didn't see that production.
After Peter & Gordon broke up, you didn't perform for thirty-eight years. All our guests on the Flower Power Cruise comment that you're such an engaging performer now. Did you miss performing during those years?
Not really, but now I'm really glad to be back.
As someone who has been on both sides of the studio glass, you're attuned to what artists want and what consumers want. Have you changed your own show since you began performing again to take account of
audience feedback?
I'm always glad to get feedback. My show is part music, part memoir. If I included everything, it would take days, so I have to be selective, and I'm pretty well attuned to what people like. I try to keep it interesting.
Have you heard anything recently –old or new— that makes you tell people "You absolutely have to hear this"?
Oh, yes. Ed Sheeran and Alessia Cara, to name two. I put them both on the Elton John tribute albums that are coming out at the beginning of April. Ed does "Candle in the Wind" and Alessia does "I Guess That's Why They Call It the Blues." I executive-produced that album. Elton was very hands-on. He wanted to be involved. And who better? I'm very happy with the result.
Can we expect anything else from you in the near future?
I've been working on a Netflix special with Steve Martin and Martin Short. Before that, I worked with Steve on his Broadway show, Bright Star.
As you know, we've already sold out the 2019 sailing of the Flower Power Cruise. Could you say a few words to our new and returning guests?
Of course. I had a terrific time. Even before the end of the 2018 sailing they were leaking that I'd be back as host in 2019 and I'm so glad that we've got it nailed down. I met a lot of really wonderful people, and so many of them said they couldn't wait for next year. It'll be Old Friends Week.
Colin Escott © 2018