The Bell Bottom Bulletin Catches Up with Gary Puckett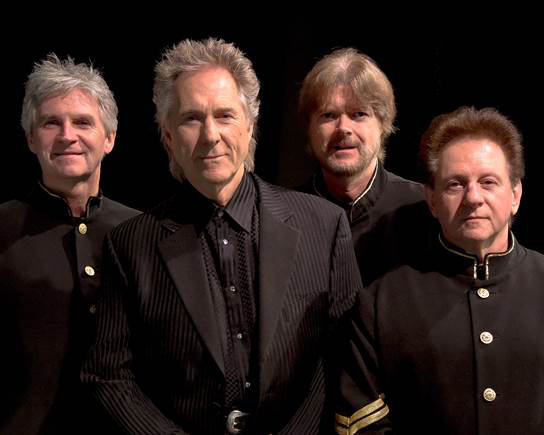 In an era of bold individuality, The Union Gap did the impossible. Led by Gary Puckett's impassioned vocals and dressed in Civil War military coats, the group looked and sounded like no other - and fans couldn't get enough. We recently had the chance to ask Gary about The Union Gap, their hit songs, his incomparable voice and the secret behind those uniforms.
With one of the most distinctive voices in music, Gary Puckett brought emotion and passion to a string of hit songs during the Flower Power Era. "Woman, Woman," "Over You," "Young Girl" and "Lady Willpower" all landed in the Top 10 and The Union Gap soon found themselves performing at the White House (for a visiting Prince Charles) and nominated for a GRAMMY Award. It was amidst all of this success that Gary first realized he had a pretty darn good singing voice. You read that right; Gary Puckett didn't grasp the power of his own talent until the world took notice.
"When I think about it in retrospect, I don't think I really realized until I had a hit record that I knew I could sing," Gary says. "It probably wasn't until 'Woman, Woman' that I actually thought that I could sing, and sing pretty well, because people were complimenting me."
While "Woman, Woman" changed Gary's life in every possible way, it wasn't quite the overnight success many think it was. And the story behind it surprisingly doesn't start with a single musical note. It begins with an ambitious young musician pounding the pavement between Hollywood record companies. "Jerry Fuller was a brand new executive and producer at Columbia Records, a division of CBS," Gary tells of his first big break. "He has this new office with basically just a desk and that's it. He'd had some success in Texas, had written many songs and was a seasoned artist in his own right. And he's got this new job with no new artists and the whole world ahead of him."
"I'm in the car with all the guys in the band, going down the street on Hollywood Boulevard," he continues. "I'm tired, I'm frustrated. All the other record companies had told us that day that they love my voice, love our outfits but our music wasn't their area of expertise and then they'd send us down the hallway to someone else and nothing came of it. We're going down the street, about a quarter mile away from the freeway that will take us back home to San Diego, and I see CBS Records and say to the guys in the band, 'pull over, keep the car running, I think I'm only going to be a few seconds.' I go inside and there's a lady at the phone center like in the old days. I walk up to her and say, 'hi – you wouldn't want to hear a new group would you?'"
Expecting her to say no and show him the door, Gary was stunned by her response and still remembers it in vivid detail. "She said to wait a minute, then directed me down to the hallway to the second door on the right. I walked down and there's Jerry Fuller, hanging Ricky Nelson's gold record on his wall. And I'm a huge fan." Within moments, Jerry listened to the band's demo, looked at their portfolio and promised to see their show on Saturday night. After the set, he and Gary sat in a nearby bowling alley and signed The Union Gap to their first recording contract.
A few months later, Gary was in Ohio, promoting the band's debut single. "There was a radio station program director in Columbus who was a Civil War historian," he explains. "We had put a picture of the band on 'Woman, Woman' because I thought it would help it stand out from the hundreds and hundreds of other songs out there." The photo, taken in the ruins of a local school that was in the midst of being torn down, featured The Union Gap in their signature military coats. "My thought was that we could wear these soldier's outfits and call ourselves The Union Gap, which is actually a town near where I grew up, to give us an identity. And it worked - he was intrigued by the photo and wondered what the song sounded like. Then he played it on the radio and it just went from there."
Noticing the attention the track was generating, Columbia Records sent the band to Cleveland. "We worked in a club called Otto's Grotto to make money at night, then went to see people during the day to promote the record. It was the dead of winter, it was cold and miserable but we were having fun," Gary remembers fondly. By the end of 1968, The Union Gap had sold more singles than any other band that year and amassed a loyal following that remains as dedicated as ever.
"We recently did a concert on Long Island and everybody in the place was singing to all the songs and to hear thousands of people like that is really an incredible feeling. It's really wonderful," he says with gratitude in his voice. "It's really warming."
Gary is looking forward to telling fans like those just how important they are to him when they meet up on the upcoming Flower Power Cruise. "When I first heard about the cruise, I thought it was absolutely great. You kind of had to be there to understand the Flower Power era truly in your heart of hearts because it was something unlike anything the world had seen. Not just a musical movement but a generational change. It was a beautiful thing and I'm so happy to be a part of it."
And it might surprise you to learn that Gary doesn't just look forward to seeing his fans on the cruise, but he's a fan, too. "We love it. My band, we see every show. We want to see all the artists and we want to hear them play and experience the nostalgia." "Go and be excited and seek it out - everything there is to do every day," he recommends with excitement. "Go see every act you can."
Until the cruise sets sail in March, fans can stay in touch with him by visiting his website, www.GaryPuckettMusic.com and by dropping him an email on the contact page.