A Letter from the Executive Producer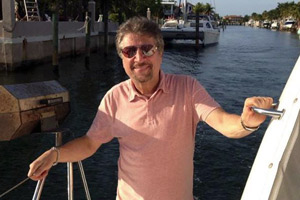 As a kid growing up in the '60s, it was obvious to me that times were changing. It was the era of breaking from the norm, whether that be in fashion, politics, lifestyles, or music. On the Flower Power Cruise we choose to celebrate all these changes as well as you, the people that were a part of this counterculture and the Love Generation. It's incredibly special to me that I get to meet so many like-minded individuals and hear your stories from the era we so fondly remember. It was filled with new hopes, dreams and attitudes and there was such wonderful new music that we can all continue to enjoy.
Onboard, we hope all these memories come back as you party with your friends under the stars at our theme nights, enjoy the fabulous performances by our star studded lineup and listen to your favorite artists as they reminisce on their early days in the music industry at our daytime panels and meet and greets. We have some very special programming up our sleeves in celebration of the 50th Woodstock Anniversary. We'll hear from The Ercolines - a couple who appeared in an iconic Woodstock photo all those years ago – and their experiences at the festival that holds such an important place in American music. The music, events and décor will transport you back to that summer at Woodstock and the era that redefined our culture. As the cruise gets closer, we'll be announcing more exciting events and themed parties so stay tuned!
Keep reading to hear more about these incredible artists and innovators that influenced what music is today. We're quite lucky to have so many of them onboard in 2019, including Gary Puckett and The Union Gap who will be back onboard for their second round performing on the Flower Power Cruise. We caught up with Gary and he is so looking forward to coming back. Read his interview here.
Keep it groovy,
Alan Rubens