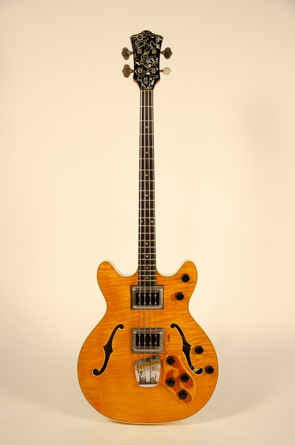 Bass guitar played at Woodstock by Jack Casady of Jefferson Airplane. Lent by Jack Casady; Image courtesy of The Museum at Bethel Woods
On March 30th, The Museum at Bethel Woods, located at the site of the 1969 Woodstock festival, will open for the 2019 season and mark the 50th Anniversary with the Special Exhibit We Are Golden: Reflections on the 50th Anniversary of The Woodstock Festival & Aspirations for a Peaceful Future. This exhibit includes authentic Woodstock artifacts such as Jack Casady of Jefferson Airplane's bass guitar and world-class photographs from the 15 best photographers of the festival to serve as a lens through which the desires of the youth of 1969, the positive societal changes the festival inspired, and the wants and needs of contemporary youth are examined.
This is the inaugural event for Bethel Woods' Season of Song & Celebration, which promises a uniquely memorable experience for those who journey to the historic site throughout the year.
Museum Spring Hours:
March 30–April 28
Thursday-Sunday, 10:00 AM-5:00 PM
Museum Summer Hours:
April 29-September 2
Open every day: 10:00 AM-7:00 PM
Museum Early Fall Hours:
September 3-November 3
Open every day: 10:00am-5:00 PM
Museum Fall Hours:
November 4-December 23
Thursday-Sunday: 10:00 AM-5:00 PM
(Home for the Holidays hours: December 26–31, open every day, 10am–5pm)
NOTE: Please call ahead to verify museum hours on concert days. Access to the grounds is closed on Pavilion concert days. The Monument continues to be open to visitors seven days a week, all year long via West Shore Road. The Museum will be closed from June 13-16th for Mountain Jam, on Thanksgiving Day, Christmas Eve day, and Christmas Day.
Click here for more information