The Moody Blues' John Lodge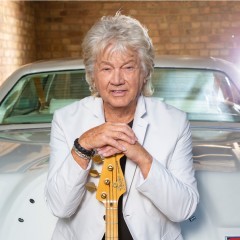 John Lodge is singer-songwriter and bass guitarist for the iconic rock band, The Moody Blues. Writer and vocalist of such mega Moody Blues hits "Ride My See-Saw", "I'm Just A Singer (In A Rock and Roll Band)", "Isn't Life Strange", "Gemini Dream", "Steppin in a Slide Zone" and many many more. Lodge has been performing and recording with The Moody Blues for more than five decades, selling in excess of 70 million albums, and also enjoys a successful solo career, doing what he loves, performing and playing music.
John's particular passion is to keep all the Moody Blues music alive – the music that he describes as the 'soundtrack of his life'. In 2019, the band stopped touring, and so John, with his 10,000 Light Years Band, now continue to bring this music to the fans who have been on this journey with him for so many years, and hopefully new ones along the way too!
As one critic put it, If you love The Moody Blues music, then you really need to checkout John live. He and the band put on a great show! John's electrifying show performs these classic songs with a new energy, whilst always remaining true to the Moody's roots and the original sound. They bring a feeling of nostalgia to the room, and the audience to their feet, with songs that are as relevant today as they were when written. As John says to the fans at the end of every show, 'Thank you for Keeping the Faith'… and you can see he means it.
The show also features a tribute to all his bandmates, including a very special recording by Graeme Edge of his poem 'Late Lament', and Jon Davison of YES joins him on stage for 'Nights in White Satin'. John is currently touring and performing the iconic album 'Days of Future Passed' in its entirety, and will also be seen on the Rock and Romance Cruise in 2023.
Lodge has been voted one of the "10 most influential bass players on the planet," and has been the recipient of numerous awards, including ASCAP (American Society of Composers and Publishers), and Ivor Novello Awards for Outstanding Contribution to Music. John was inducted into the Hollywood Walk of Fame, and in 2019 was given a star in his hometown 'Walk of Fame'. In 2018, John and the Moody Blues were inducted into the 'Rock and Roll Hall of Fame', and in 2019 John was given the Lifetime Achievement Award in the Prog Awards.
The Moodies have released 15 studio albums, and John has released five solo albums, plus the 1975 BLUE JAYS album. John's latest release (January 2022) is the new Live Album 'THE ROYAL AFFAIR AND AFTER'. The album is a wonderful encapsulation of his current live show "Performs Classic Moody Blues", and features all his Moodies hits, plus special tributes to all the members of the Moody Blues. The album has received critical acclaim from fans and journalists around the world, and was incredibly important to John in bringing not only songs that he wrote for the Moody Blues to the fans, but also in honouring songs from his bandmates, such as 'Legend of a Mind' by Ray Thomas, and the incredibly poignant rendition of 'Late Lament' by Graeme Edge who sadly passed away in 2021.