Dining & Bars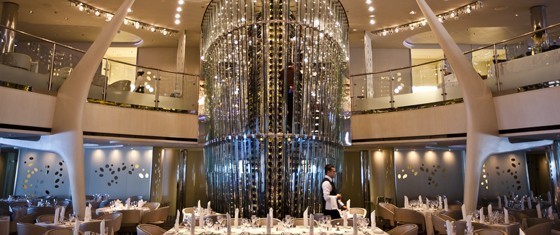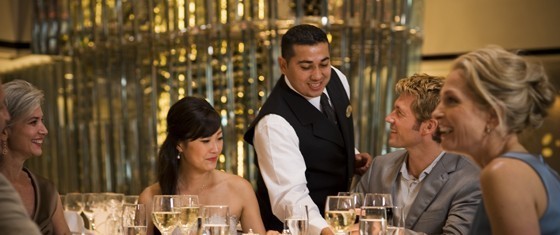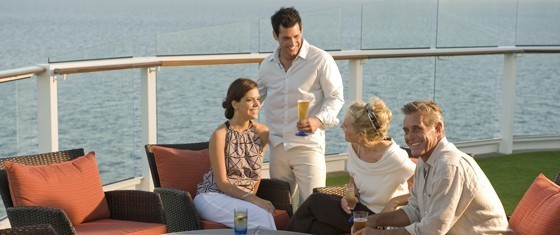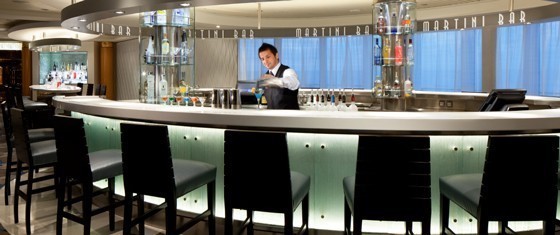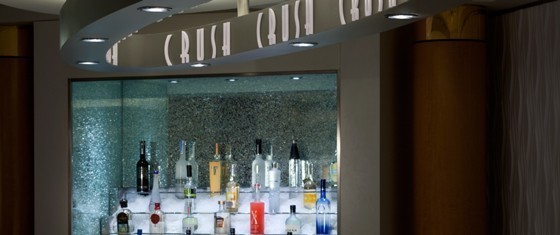 Dining on the Celebrity Cruise Infinity Ship is an experience beyond the obvious, a globally influenced blend of classic and contemporary menus. It's always a perfect marriage of flavors and the artful presentation of cuisine. There are many different kinds of dining experiences, including Main Dining, held in the main restaurant, where you can choose a set time every night. Casual Dining can be enjoyed in our Oceanview Café or Sushi on Five. And then there's Specialty Dining, where each restaurant offers a unique culinary journey.
---
Restaurants
Trellis Restaurant (A grand stage for dining): The Main Restaurant is the centerpiece of immersive and enriching range of culinary experiences. Presenting an unparalleled wealth of choices every evening. Working literally around the clock, the galleys delight in sending out artfully presented dishes, every delicate micro-green garnish perfectly in place. The Main Restaurant now also offers more than 60 SPE-certified options (certified for sustainable and nutritional quality) for healthy and delicious dining.
Le Petit Chef at Qsine: The world-renown artists of Skullmapping ™, presented by TableMation™ have reached a true pinnacle of their custom 3D table animation art form. This dining experience is beautifully choreographed with an elegant menu created by Michelin Star Chef Cornelius Gallagher. Le Petit Chef ™ offered on Celebrity Cruises is simply one of the most unique dining events in the world.
Tuscan Grille: Tuscan Grille steak house, the popular Solstice® Class restaurant, brings its dry aged steaks and freshly made pastas to Celebrity Infinity. In addition to its modern twist on traditional steaks and its wine list highlighting Italy, this incarnation presents a unique Italian cocktail menu—a first for Tuscan Grille. Attention taste buds: "You're welcome."
Sushi on Five: Wildly popular from the day it appearad - as a pop-up restaurant on Celebrity Reflection® - Sushi on Five satisfies your craving for extremely fresh, locally sourced, lovingly handled and authentically prepared fish and veggies. Its menu has been crafted by expert sushi chef Yoshikazu "Yoshi" Okada, originally from Japan, now a restauranteur in Hollywood.
Café al Bacio & Gelateria: The design inspiration was drawn from the ambiance of cafés in Vienna and Paris. The color scheme of sepia tones and citrus yellows brings the concept to life. Damask patterns on the ceiling, floor and hanging lampshades are modern applications of the intricate lace work curtains of European cafés. Lavazza, Italy's leading espresso company, provides that irresistible aroma that brings people in for their favorite espresso, cappuccino, latte, mocha or macchiato. If you favor tea, you can choose from over a dozen premium hot teas from the innovative Tea Forté including Estate Darjeeling, Vienna Cinnamon or Jasmine Green, and iced teas that include Pomegranate Blackberry and White Ginger Pear. Desserts are offered in the afternoon and evening. Apricot pistachio tartlets, chocolate gianduja cake and tiramisu are all quite tempting. An espresso and a chocolate truffle may become your 4:00 p.m. daily ritual. Café al Bacio also features an authentic Gelateria, with your favorite artisan gelatos such as vanilla, hazelnut, pistachio and more. Fresh fruit sorbettos, in piccolo or grande portions, are waiting for you, too.
AquaSpa Café: Celebrity was one of the first cruise lines to offer a spa restaurant. We saw an opportunity to create an extension of our industry's leading spa experience by introducing the AquaSpa Café. Fresh, spa-inspired delights to nourish body and mind.
Blu: Inspired by the Mediterranean Sea and the cool blue colors one experiences in Greece. Clean, crisp flavors and inventive cuisine. Personal service, inviting surroundings and natural light are all part of the fresh and clean aspect of Blu. As an AquaClass® guest, you can enjoy Blu, your own exclusive restaurant for breakfast and dinner. If the concept of "spa restaurant" causes you or your significant other to think you'll never see a steak or a rich dessert on the menu that is definitely not the case. The cuisine at Blu is simply an imaginative way of preparing popular dishes without fussiness or pretense.
Luminae: As the name suggests, Luminae's inviting ambiance captures the essence of light—from the brilliance of early morning sunlight reflecting off the open sea to the intimate warmth of a richly illuminated moonlit evening. The unique menus you'll enjoy here are not available in any other restaurant. And, you'll see each one only once, because every day features a different menu for two full weeks. Luminae is exclusively for suite holders.
---
Bars
An essential part of a luxurious and relaxing vacation is finding the perfect spot to match your mood and occasion. With this philosophy in mind, we have designed each of our bars as a unique destination unto itself. The menus offer a diverse selection of classics and the latest trends. To keep our menus fresh and current, we work with a variety of sources, including Mixologists from the brands we serve, and our creative and passionate beverage staff. Each bar has its own team of specialists, and they take pride in the unique features of their venue. Options include:
Cellar Masters: Inspired by the vineyards of the world, Cellar Masters brings to life the experience of a global wine tour, while you learn about and taste a large variety of wines from around the world. Using state-of-the-art Enomatic® wine dispensers, your bacchanalian curiosity is satisfied with the press of a button. A welcoming and unique onboard environment, you'll discover new wines, receive recommendations and enrich your knowledge of the world of wine.
Martini Bar & Crush: On the totally cool, ice-topped bar, our talented bartenders put on a high-energy show preparing an intriguing menu of classic and contemporary martinis, including the 20-Year Martini in celebration of Celebrity's 20th Anniversary. Sit back in the contemporary plush high-back chairs while listening to up-tempo tunes and enjoy a collection of classic and rare vodkas and a portfolio of fine caviars.
Pool & Mast Bar: The perfect place to grab a quick bite, like burgers and other specialties grilled to order, while relaxing out on the Pool Deck.