The Buckinghams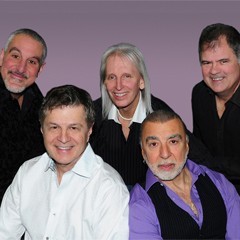 One of the most beloved and respected Chicago bands ever to explode onto the national scene, The Buckinghams' live concerts pack power into 60s pop rock. Bringing back great memories with their chart-topping 60s hits, The Buckinghams include 70s favorites in their powerful sets, electrifying audiences with dynamic vocals and solid harmonies. Full-time since 1982, original Buckinghams Carl Giammarese and Nick Fortuna and their band have continued to deliver fast-paced, solid shows that bring crowds to their feet.
Their No. #1 Billboard hit, "Kind of a Drag" is the standout that first made them famous. Next came 7 national chart hits, 15 singles, and 8 acclaimed albums. Billboard Magazine named them "The Most Listened to Band in America"; The Buckinghams became national favorites on The Ed Sullivan Show, The Smothers Brothers' Comedy Hour, American Bandstand, and more.
Thousands of loyal fans remain devoted today, as their hits continue to be heard on oldies radio, classic rock stations, Sirius/XM satellite and Internet channels. Enthusiastic and effervescent as when their records began their ascents up national charts, The Buckinghams' Giammarese and Fortuna deliver nonstop, high-energy performances that audiences appreciate and request in shows filled with longtime fans, as well as new friends—teens and young adults.
Today they're still crowd-pleasing favorites, delivering a show packed with tremendous music and good humor. Audiences love The Buckinghams today as much as they first did in the 60s. With 3 songs on the Top 10 simultaneously, The Buckinghams enjoyed phenomenal success with hit singles including "Don't You Care," "Mercy, Mercy, Mercy," and the national anthem of teenage love, "Hey Baby, They're Playing Our Song", on the national charts simultaneously. In 1968, the Buckinghams debuted "Susan" and "Where is Love" on The Ed Sullivan Show. In concerts today, crowds are "Back in Love Again," as fans know the words to all their songs.
In 2001, The Buckinghams were part of the successful "Solid Gold 60s" tour, featuring Tommy James & The Shondells, The Turtles, Gary Puckett & the Union Gap, & Grass Roots. PBS featured The Buckinghams on "The Sixties Pop Rock Reunion" in 2004. The Buckinghams headline festivals, play arenas, theatres, and casinos, wherever fans want to hear them. Playing the 2005 Presidential Inaugural Ball was a great honor for The Buckinghams. They were again invited to perform at the Bipartisan Agricultural Ball at the Presidential Inaugural festivities at the Grand Hyatt Hotel, Washington, DC, on January 20, 2009.
From 2008–2009, The Buckinghams released 3 new CDs—"Reaching Back", "Standing Room Only," and "The Joy of Christmas," favorite standards & new tunes from their annual Christmas shows every year. In 2009, The Buckinghams were inducted into the prestigious Hit Parade Hall of Fame. The 2010 DVD/CD, "Up Close," featured The Buckinghams live at the Star Plaza Theatre. "FlashBack!" a Buckinghams' studio CD, was released in 2014. Carl's solo CD, "Living in the Moment," was released in 2016.
In 2014, The Buckinghams & Gary Puckett debuted "Groovin' the 60s," an Orchestral Events show, with symphonic arrangements of 1960s hits, and they've performed annual Buckinghams Christmas shows. Carl Giammarese and Nick Fortuna were on the Happy Together Silver Anniversary Tours (2010-2012, 2015), with The Turtles, Micky Dolenz, Mark Lindsay, Grass Roots, & Gary Puckett and others. They are popular entertainers booked for international cruises, including Where the Action Is and Flower Power Concert Cruises (2008–2019). Featured performers on WTTW's, Cornerstones of Rock: American Garage show, it's still shown on national PBS stations. They now are part of the Cornerstones of Rock Concert Tour across the country. The Buckinghams always deliver concerts that are certified "Solid Gold."