The Outsiders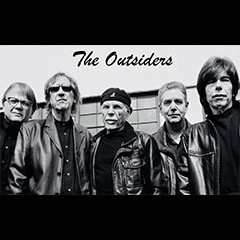 The year was 1966. An area band from Cleveland, Ohio experienced the ultimate "Cinderella story" by having a Top 5 Billboard hit called "Time Won't Let Me".
The Outsiders were on their way.
The Group's popularity led to television appearances on entertainment shows like Dick Clark's "Where The Action Is", "Hullabaloo", "Shindig", and local teen shows across the United States. Subsequent Outsiders releases also received radio airplay success on the National Charts.Their second single, "Girl In Love", reached #11."Respectable" reached #15, and "Help Me Girl" reached #21.
Members changed in the original Outsiders lineup, and like so many groups of the era, the band slowly faded into Top 40 music history. That is...until now! The Outsiders, now fronted by original drummer Ricky Biagiola (Baker), and accompanied by his most capable band.Members include guitarist Michael Abraham, keyboardist Rik Williger, bassist Greg DePaulo and guitarist Jimmy Aschenbener. The Outsiders are BACK! Reproducing their classic radio hits, along with popular Top 40 AM radio songs from the 60's,