The Yardbirds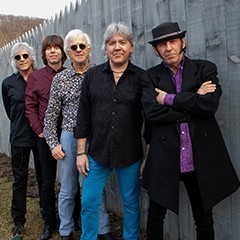 The Yardbirds are more than a Rock band…they are an institution…which, in the brief period from 1963 to 1968, made an indelible mark on the "Shapes of Things" to come.
To the casual music fan, The Yardbirds are best known as the band that honed the skills of future "guitar gods" Eric Clapton, Jeff Beck and Jimmy Page; and for their slew of chart hits, including "For Your Love," "Heart Full of Soul", "I'm A Man", and "Over Under Sideways Down". Led by core members and songwriters Jim McCarty (drums), Chris Dreja (rhythm guitar/bass) and the late Keith Relf (vocals/harmonica), the band's experimental explorations also provided the crucial link between British R&B, Psychedelic Rock, and Heavy Metal, while pioneering the use of innovations like fuzz tone, feedback and distortion. Even their 1968 break-up set the stage for Rock 'n' Roll's future…leading Jimmy Page to form the New Yardbirds, later re-christened Led Zeppelin.
Reuniting decades later, McCarty and Dreja brought The Yardbirds boldly into the 21st Century with the 2003 release of the acclaimed CD Birdland, which featured guest appearances from the likes of Brian May, Joe Satriani, Slash and Steve Vai. Additionally, the band commemorated their 50th Anniversary with the release of their live DVD Making Tracks in 2013.
In 2015, Jim McCarty debuted the new touring line-up of The Yardbirds, consisting of guitarist Godfrey Towsend, bassist Kenny Aaronson, singer / harpist / percussionist Myke Scavone, and guitarist / singer John Idan to rave reviews. As Goldmine Magazine stated, "the band's hallmark of top-notch musicianship remains. There are no passengers in this band."
The Yardbirds -- electrifying, eclectic and way ahead of their time – melded heavy rock, wild jams, and an improvisatory feel, and continue to influence generations of bands. Go to a Yardbirds show and you'll find crowds filled with 20-somethings to baby boomers all thrilling to this band's legendary power. Watching The Yardbirds in action is experiencing rock'n'roll history.