A Letter from the Executive Producer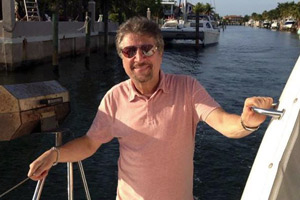 This cruise and its fans are unbelievable! Because of your incredible loyalty and appreciation for the Flower Power Cruise, we sold out just one hour into our presale event for the 2020 sailing. And man, it is shaping up to be a particularly special one as we prepare for our 5th Anniversary. We'll celebrate the era with the parties and events you've come to know and love, plus all that incredible music!
Even though we're sold out, we are in the heat of summer making a few more artist additions and exciting program planning. We have so many wonderful new acts to the Cruise joining us next year, but you know it wouldn't be a true Flower Power Cruise without our alumni artists. We're thrilled to share that we will have some of your favorite acts back onboard in 2020! Peter Asher will return as your cruise host and share even more amazing stories about his experiences in the music industry. Of course we couldn't have a psychedelic '60s party without the funkiest group, The Family Stone, who will also be back next year! Fan favorites Kiss the Sky The Re-Experience: World's Greatest Tribute to Jimi Hendrix, The Newbees, Hal Bruce, the LSB Experience, tribute artists Cara Lee, George Trullinger and Tim Stamper are coming back to join in on all the fun. We welcome Strange Days a tribute to the Doors onboard as they capture the magic and mystery of The Doors in their prime. Plus, the Integral Yoga Institute returns, as they bring the zen back to the ship with their yoga and meditation practices.
Sound like a party to you? Us too! In fact, is it March yet? For those of you that missed your chance to book, you can still join our waitlist and stay up to date as any cabins become available. Those on the waitlist are the first to be notified during our email announcements on Tuesday nights.
We can't wait to spend seven unforgettable nights with you in 2020 and make some more lifelong memories onboard with our Flower Power family.
Peace,
Alan Rubens, Executive Producer