Peter Asher, Superhero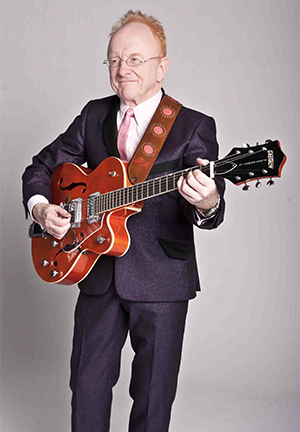 Peter Asher has done it all. Pop star. Record company executive. Record producer. Radio host. A manager, guiding the careers of icons. Commander of the Order of the British Empire. And, our personal favorite, host of the 2020 Flower Power Cruise. We're thrilled that he'll be joining us again on the cruise next March, sharing his amazing talent and stories from a career that has taken him from the top of the charts to GRAMMY Awards and from the studio into the boardroom. We recently got the chance to speak with Peter during a rare break in his schedule. Here's what he had to say about his life, his career and what he loves about the Flower Power Cruise.
We like to think of Peter Asher as a musical superhero. As half of the duo, Peter and Gordon, he scored a number one hit in both the US and the UK at just 19 years old. "A World Without Love" went on to sell over a million copies and launched a career that has brought Peter success in every single aspect of the music business. After a string of Top 20 hits with Gordon Waller ("Nobody I Know," "I Don't Want to See You Again," "I Go to Pieces," "True Love Ways," "Woman," "Lady Godiva" and "Knight in Rusty Armour"), Peter decided to take a seat on the other side of the table and was named head of A&R at Apple Records.
In charge of discovering new talent, one of Peter's first finds was a young singer/songwriter named James Taylor. Asher took Taylor under his wing, producing several of his albums and becoming his manager. Not long after, he lent his talents to Linda Ronstadt, managing her career while producing her albums. In the years that followed, Peter continued to shape the sound of pop music by taking on top executive positions at record labels, managing superstars and producing ground-breaking albums (including three GRAMMY Awards for work he did with James Taylor, Linda Ronstadt and Robin Williams) all while continuing to tour whenever he could. He's worked in theater, as a tour director and in 2017 he began hosting a new show, "From Me To You," for Sirius XM.
Reflecting on his career filled with hit songs, accolades and spectacular memories, Peter insists there's no favorite moment or song or collaborator that he can pick as a favorite. "My favorite is the fact that I get to do all of them," he explains. "I relish very much that I get to divide my time between performing, producing, writing, live performances and hosting a radio show. But if I had to pick one of those elements, it might be working in the studio because I think I find that the most fulfilling. But I hope I never have to find out and restrict myself to just one of them!"
His answer reveals a common thread running throughout all of the work that spans his long career: Peter's genuine, infectious love for music. "It does bring me joy," he readily admits. "I wouldn't work as hard as I do if I didn't enjoy it all so much."
Something he is particularly enjoying lately is his radio show "From Me To You." Heard on SiriusXM's Beatles Channel every Thursday at 8pm ET (rebroadcast on Saturdays at 5pm ET, Sundays at 8am ET and Tuesdays at 1pm ET), each episode is a labor of love and personally created by Peter. "Each week, it's me and a blank pad and pencil." "It does take a bit of thought. I do get quite devious and involved in some of the things I talk about," he adds with a smile, "and I allow myself to take different songs into musical and technical discussions apart from actual Beatles stories." He's even taken his radio show to an entirely new format. "I did a whole segment based on the Beatles from A-Z by covering topics, songs and people beginning with each letter. Those 26 episodes are turning into a book, The Beatles from A to Zed that will be coming out November and is available for pre-order now online."
"From Me To You" showcases Peter's ability to connect with people in such a strong and authentic way, something he revels in – particularly during his live concerts. "I genuinely like people and it's a really unique situation on a cruise to interact with them. I find myself always in front of people who know exactly who I am and many have come to see me in the past. I totally enjoy it."
"I find fans of music and that era of music very interesting to talk to," he continues. "There's genuine interest on both sides. I enjoy it, I have a great time and enjoy meeting people."
"It's hard to resist," Peter says about returning to the Flower Power Cruise. "Last time was a lot of fun and I know this time will be as well. They're great ships and the people running it are very together and fun. And I get to see different friends – seeing other peoples' shows is always such a pleasure."
Peter pauses for a moment to share some of his cruising tips with us. "Go to everything - I try to do that. And on this cruise, you get mixtures of great people, especially when I get to put together an event like an acoustic evening where we create different combinations of performers. And the unpredictable moments on the cruise are the best."
We couldn't agree more and are already starting to imagine all the possibilities of collaborations and surprises that might lay ahead for us on the cruise. We hope you'll join us in finding out!