Announcing The New Special Exhibit Coming to Bethel Woods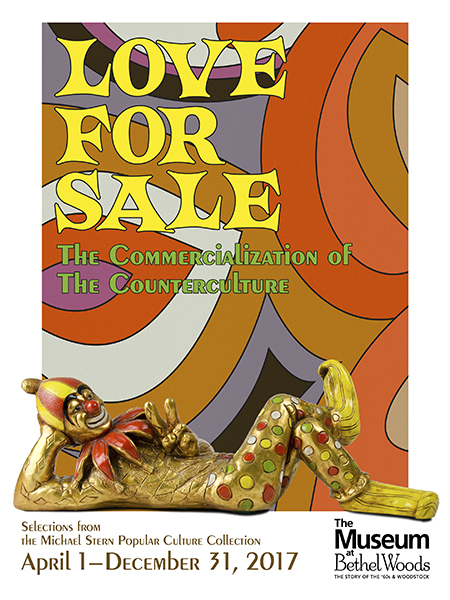 PEACE AND LOVE. MUSIC AND FESTIVALS. CIVIL RIGHTS AND ACTIVISM. YOUTH CULTURE AND POP CULTURE. ARTS AND FREEDOM OF EXPRESSION.
These themes are as important today as they were in the 1960s. At The Museum at Bethel Woods you can explore all this and more at the historic site of the 1969 Woodstock festival. But that's not all, Bethel Woods Center for the Arts also offers a breathtaking setting, unparalleled guest service, world-class concerts, fun fall festivals, and engaging educational programs for all ages.
On April 1st, The Museum at Bethel Woods will open for the 2017 season, featuring a new special exhibit, Love For Sale: The Commercialization of the Counterculture. The exhibit uses a suburban family home of 1970 as a backdrop for an explosion of everyday popular culture drawn from the counterculture. This special exhibition directly explores the social, political, and cultural impact of the '60s through an examination of the material pop culture in everyday suburban life. On display through December 31st, the special exhibit is included in the price of admission to the Main Exhibit, or just $5.00 to view it separately.
Additionally, museum programming—films, lectures, and tours—will reinforce the message and support the idea of the impact of counterculture on the mainstream through the media and other pop culture influences. The exhibit will feature the TV room/living room, dining room, and teenage boy and girl bedrooms of a ca. 1970 suburban home as settings for the pop culture artifacts. Period televisions will show ca. 1970 commercials and 1962–1970 sitcoms and variety shows on a continuous loop.
Guests joining us on this year's Flower Power Cruise will get a sneak preview of this special exhibit from Wade Lawrence, Museum Director and Senior Curator at The Museum at Bethel Woods.
For more information and to plan your trip today visit bethelwoodscenter.org.