Celebrating 50 Years of The Zombies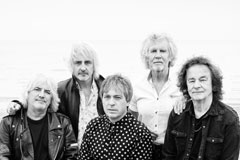 What an incredible year this is for The Zombies. It's the 50th anniversary of their era-defining song, "Time of the Season," and the 55th anniversary of both their first single, "She's Not There," and their hit "Tell Her No." And did we mention that this is also the year the band will be inducted into the Rock and Roll Hall of Fame? We can't wait to set sail on the Flower Power Cruise next year and hear them share their stories of these celebrations and the unconventional road they took to get here.
"When The Zombies first played together all those years ago we would never have dreamt of this kind of recognition!" Colin Blunstone said, quite in awe of it all, in December when he'd heard that The Zombies would be inducted into the Rock and Roll Hall of Fame. His bandmate, Rod Argent, called it "an incomparable and unbelievable honor," capping off an already-unbelievable journey for the lifelong friends who started the band while still in school amidst the bucolic countryside of Hertfordshire, England.
In those early years, The Zombies won a band competition and released their first single, "She's Not There," which quickly became a worldwide hit. It was followed by "Tell Her No," and the band's concerts soon filled with frenzied fans who couldn't get enough of their beautifully complex songs, melodies and harmonies. The Zombies returned to the recording studio in 1967 to make what would become "Odessey and Oracle" (misspelled by the band's friend who created the album artwork) and broke up four months before it would be released.
But the magic of that studio session – and perhaps of the studio itself – could not be stifled and the pop perfection of "Time of the Season" made its way to the top of the US charts in 1969, long after the group called it a day. Recorded in EMI Studios at Abbey Road, hallowed ground where the Beatles were finishing up "Sgt. Pepper's Lonely Hearts Club Band" and Pink Floyd were creating "Piper At The Gates of Dawn," the song remains one of the most iconic of the Flower Power era.
"It was very strange. It was almost unbelievable really," Blunstone told Forbes magazine recently. "When the record started to break in America, I'm not sure I really believed what was happening. It was made more strange by the fact that…one of the only countries in the world it wasn't a hit in was the U.K. It wasn't a hit here. And so we were in isolation here. Nothing was happening here with 'Odessey and Oracle' or 'Time of the Season.' And yet, eventually, we realized that something was happening in America. It was a really strange feeling. I think everyone was committed to other projects by the time it was a hit. And there was never one discussion about getting back together again."
But the discussion did finally happen, 30 years after "Time of the Season" hit #1 in the United States. Blunstone called his longtime friend and former bandmate Rod Argent to see if he might want to join him on tour that year and they've continued to perform throughout the world ever since.
When the 50th anniversary of "Odessey and Oracle" came around, the group put together a special tour to play the entire album live on stage from start to finish. "I don't listen to any of the material that I've recorded over the years very often because I'm always concentrating on what comes next," Blunstone said to Forbes. "And I know that that's true of all of the guys in the band. And so it was interesting to go back and hear those songs that I probably hadn't heard for a few years. And some of those songs, I'd never sung live. And that's true of the other guys - they hadn't played them live. We just played them in the studio. So it was almost like playing new songs really."
Which is actually quite ironic, because The Zombies continue to write and perform new songs, much to the delight of their fans. "It's absolutely imperative," he continues. "We all agree that if we weren't making new records and playing new songs, then we probably wouldn't be touring. We love to play the old songs. It's great. But it's absolutely imperative to us that we write and record new material. One of the most satisfying things and exciting things is that our audience seems to respond as enthusiastically to our new material they do to the old standards. It's really heartwarming."
Yes, we do love their songs – both new and old – and we're already counting down the days until we get to see them on the 2020 Flower Power Cruise.