Special Rates Available Plus a $100 Onboard Credit During the 2020 Presale!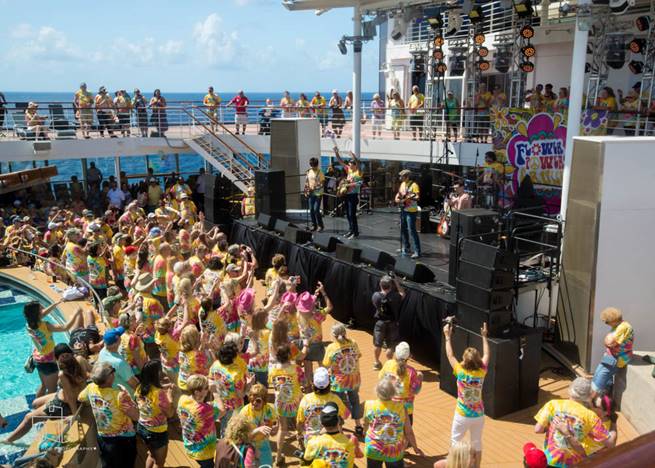 We have a very big celebration in store for 2020 as we mark our 5th Anniversary of the Flower Power Cruise. Come celebrate the music, culture and Flower Power spirit with The Hollies (special appearance 3/31), The Zombies, Herman's Hermits starring Peter Noone, The Turtles, Arlo Guthrie, The Buckinghams, The Grass Roots, Rare Earth, Vanilla Fudge, The Classics IV, Music of Cream, The Outsiders, The Fab Four, and more!
We're spreading the love with our loyal fans that share a passion for the music and vibe of the love generation. It's you, our fans, that make the Flower Power Cruise so special so we are offering you the exclusive opportunity to reserve a spot on the 2020 Flower Power Cruise before booking opens to the general public.
With over 50 incredible LIVE performances by these artists and over 25 celebrity interactive events including artist Q&As, panel discussions, wine tasting, game shows, and many more surprises we have in store, you won't want to miss our 2020 sailing.
Please see below on how to take advantage of our special presale offering the lowest rates available plus a $100 onboard credit to use while on board:
For our 2019 guests:
You may book your same cabin and occupancy with the ability to change your dining time. You were emailed your unique personal identifier link on February 28th. These are the lowest rates ever available.
The link will be active until 11:59pm EST on Tuesday, March 26th.
For our loyal fans and previous guests:
If you weren't able to join us this year, we have an exclusive offer for the 2020 Flower Power Cruise. By booking online during the 24-hour presale event you have the opportunity to secure your spot and best cabin choice available for 2020 before booking opens to the public. You will also receive a special Insider rate PLUS a $100 credit per cabin to spend onboard.
The Flower Power Cruise always sells out far in advance, so register for the presale today by reading the "Important Registration Details…" and following the "Steps to Register…" instructions below.
Important Registration Details for the Exclusive Booking Event:
You must register by COB Tuesday, March 26th in order to be able to make a reservation online during the presale window. (Please note: you are not making an actual booking at this time, you are simply registering to have the ability to make a booking during the presale window).
Your registration will include the ability to make a reservation for you and companions in your cabin. Each person in the cabin does not need to register separately.
In the "How did you hear about us" section, enter the special promo code PRESALEINTEREST for the special insider rate and $100 onboard credit to use onboard the 2020 Flower Power Cruise.
Once you have completed your registration, you will receive a confirmation email that you have successfully registered for the event. If you do not receive a confirmation email, your registration is invalid, and you will not be able to make a reservation during this exclusive presale window.
By registering in advance for this special presale event you will receive a Unique Token Code that will provide you access to the reservation system during the presale window.
You will receive your Unique Token Code on Monday, April 8th. The 24-hour booking window will begin at 9am ET that Wednesday, April 10th.