Highlights From The 2017 Grooviest Trip At Sea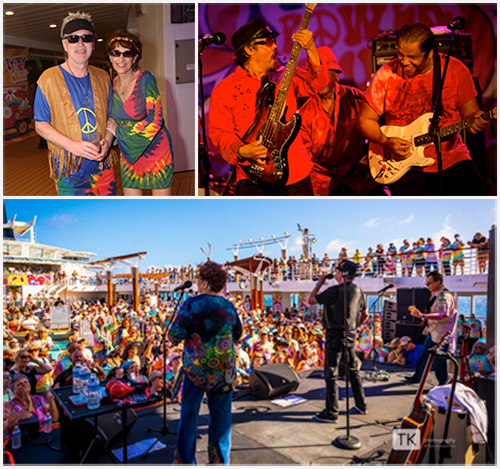 On the 2017 Flower Power Cruise, we really learned that our musical heroes from the 1960s can still ROCK, and, so can we! From Eric Burdon and The Animals, Micky Dolenz – The Monkees Lead Singer (and serving as cruise host), The 5th Dimension, The Family Stone, The Lovin' Spoonful, Peter Asher, Rare Earth, Spencer Davis, Three Dog Night, Vanilla Fudge, The Yardbirds and The Zombies; every single song, every single performance was unforgettable. It makes you realize how fortunate we are to be in the presence of these creative and inspiring musical influences.
Check out the amazing memories we shared from the sail-away party, mingling with the artists, the once-in-a-lifetime LIVE performances, late night parties and celebrating the spirit of the Flower Power era with friends old and new. Click here to view and download the free collection of photos our StarVista LIVE photographers took onboard.
Now that you've seen how much fun we had on the 2017 sailing, don't miss out on your chance to book for 2018! We are already over 65% sold and can't wait to get back on the boat. Make sure you book today and let your friends know that you just can't miss this experience of a lifetime.
Next year's lineup features some brand new award winning artists for the Flower Power Cruise, including The Hollies, The Turtles featuring Flo & Eddie, The Association, Canned Heat, The Cowsills, and Mitch Ryder & The Detroit Wheels. Back by popular demand we have – Herman's Hermits starring Peter Noone, Felix Cavaliere's Rascals, The Guess Who, The Grass Roots, and The Buckinghams. We realize it wouldn't be a Flower Power Cruise without the late night jam starring The Family Stone. Plus, as always, there will be more to come!
Departing Ft. Lauderdale on February 24, 2018 and making sunny ports of call in Aruba and Curacao, we'll return March 3, 2018.
Call 844-277-3569 or book now and take advantage of our convenient payment plans!